A "Bearish" Pattern As Traders Flee Dollar Funds
---
---
This is an abridged version of our Daily Report.
"Bearish" engulfing
The price pattern in the S&P does not look promising, according to textbook technical analysis. Friday arguably was a bearish engulfing pattern that suggests weak buying interest and eager sellers.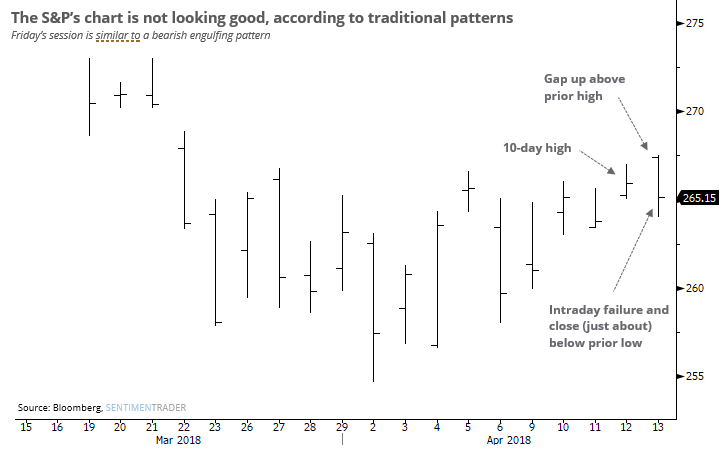 It has not been a successful reason to sell, with stocks rising over the next two weeks essentially every time.).
Dollar apathy
Investors have fled mutual and exchange-traded funds that bet on, or hedge against, a rising dollar. Assets in the funds are trading at or near a 7-year low. Traders have also fled currency-hedged ETFs that bet on the performance of other countries while hedging against a rise in the buck.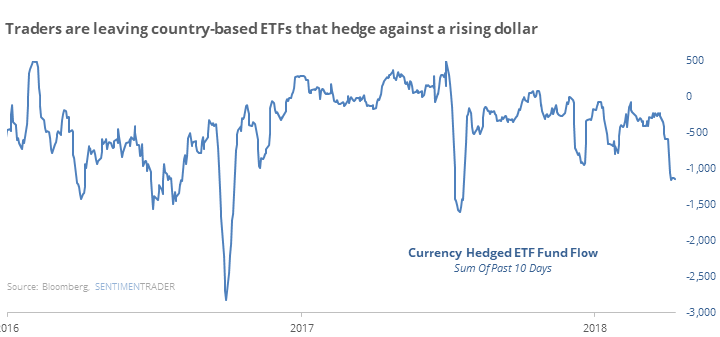 Big bank bust
Among the most positive knee-jerk reactions to earnings was JP Morgan, which gapped up above its prior high and looked ready to challenge its 52-week high.
The latest Commitments of Traders report was released, covering positions through Tuesday.
Most contracts saw "smart money" hedgers reducing previous extremes. The 3-year Max/Min Screen shows a new 3-year extreme in hedgers' short exposure in the British pound and VIX futures.


F
or access to the full report, indicators, charts, screens, and Backtest Engine, log in or sign up for a free 30-day trial today.
The post titled A "Bearish" Pattern As Traders Flee Dollar Funds was originally published as on SentimenTrader.com on 2018-04-16.
At SentimenTrader.com, our service is not focused on market timing per se, but rather risk management. That may be a distinction without a difference, but it's how we approach the markets. We study signs that suggest it is time to raise or lower market exposure as a function of risk relative to probable reward. It is all about risk-adjusted expectations given existing evidence. Learn more about our service , research, models and indicators.
Follow us on Twitter for up to the minute analysis of market action.
Follow @sentimentrader