A Bad Month; Wide Confidence Spread
---
---
This is an abridged version of our Daily Report.
A bad month
The S&P suffered 16 negative days in October, tied for 3rd worst since 1928 and the most since 1970.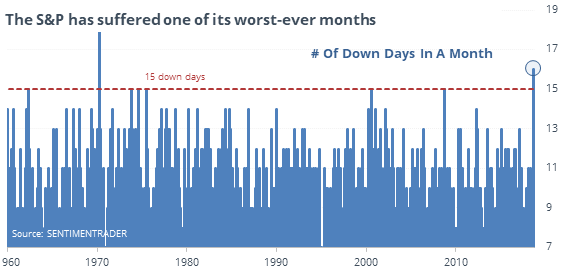 The pressure was enough to trigger a sell signal for a popular trend-following strategy, with a close below its 10-month average, that calls for a reduction in exposure to stocks. After other times a trend-following strategy would have moved to cash, an investor would have stayed in cash for an average of 4 months, saving themselves 4.6% of grief in the process.
Confidence spread
The decline has created a wide spread between Smart and Dumb Money sentiment. The former is above 70%, the latter below 20%.

When it has been this far between the two, stocks rallied every time during the next 1-3 months. What's especially notable about that record is that there was no bull market filter. The dates included bear market environments, but when sentiment was this stretched, stocks rebounded, even if they were going to ultimately roll over to lower lows.
Two weeks of fear
The 10-day average of our proxy for the CNN Fear & Greed model is down to 11%, the lowest since 2014. The Backtest Engine shows that a reading this low or lower led to a rebound in the New York Composite over the next three months 90% of the time.
Major miners
The Optimism Index on the GDXJ junior gold mining fund is below 20. The Backtest Engine shows that its next-day return averaged 0.35%, which comes out to an annualized 141.2%.

The post titled A Bad Month; Wide Confidence Spread was originally published as on SentimenTrader.com on 2018-11-01.
At SentimenTrader.com, our service is not focused on market timing per se, but rather risk management. That may be a distinction without a difference, but it's how we approach the markets. We study signs that suggest it is time to raise or lower market exposure as a function of risk relative to probable reward. It is all about risk-adjusted expectations given existing evidence. Learn more about our service , research, models and indicators.
Follow us on Twitter for up to the minute analysis of market action.
Follow @sentimentrader