7-figure accounts surge along with mo-mo market
---
---
Seven-figure surge
Retail traders are becoming manic about trading stocks. The constant drumbeat of new highs combined with zero commissions has proved to be irresistible, and a record number of them have account balances worthy of bragging rights.
According to Fidelity, there has been a surge in the number of accounts worth more than a $1 million.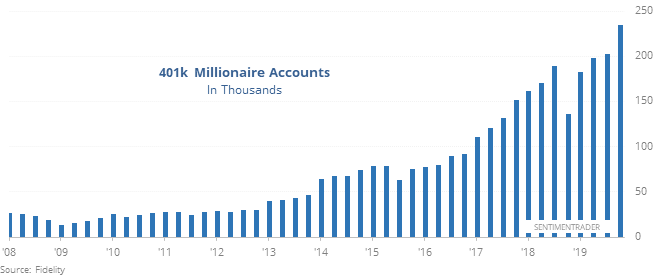 The rate of growth over the past year is among the most impressive we've ever seen. The only time that can compare is in 2009, but that was coming off a very low base following the financial crisis. This is more indicative of a runaway market than a recovering one.
Bollinger Bands and momentum
As Seth Golden noted, the S&P has gone many days without a -5% pullback and is currently more than 2 standard deviations above its 200 day average.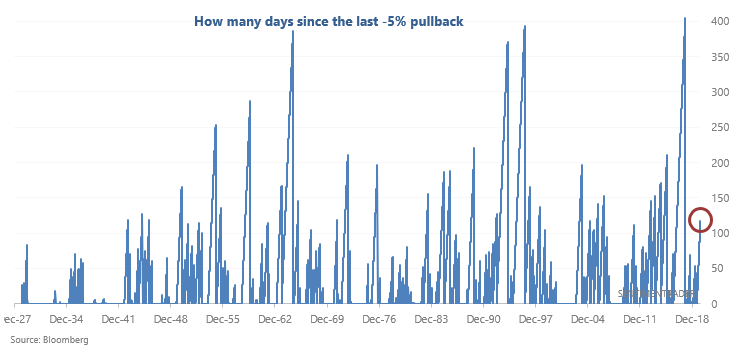 When the S&P went 117 days without a -5% drawdown from 1 year highs while it was more than 2 standard deviations above its 200 dma, the S&P's forward returns on nearly every time frame were more bullish than random.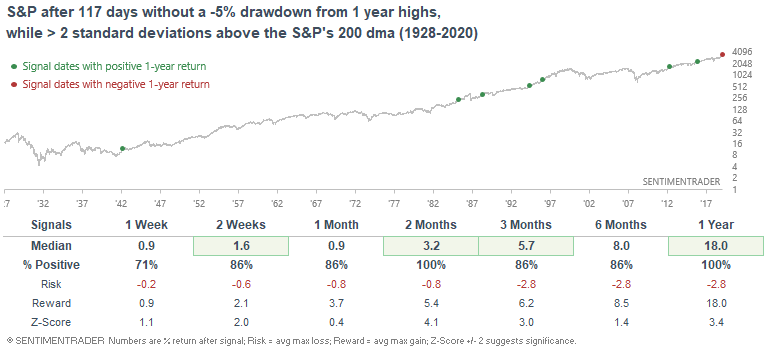 This is the main contradiction right now in stocks - things are stretched to a degree that usually precedes flat or negative returns over the short- to medium-term, but when it gets so stretched, it has an even stronger tendency to lead to higher returns longer-term.
This is an abridged version of our recent reports and notes. For immediate access with no obligation, sign up for a 30-day free trial now.
We also looked at:
2020 has had one of the best-ever first 30 days - we look at what happened after the others
The ratio of the Nasdaq to S&P 500 is one of the most overbought in history
Stocks have rallied 15 of the past 19 weeks
Tech stocks have levitated above their 50- and 200-day averages for months on end
What happens after the euro suffers almost 9 straight days of declines

Related Posts:
---
Tagged As:
The post titled 7-figure accounts surge along with mo-mo market was originally published as on SentimenTrader.com on 2020-02-14.
At SentimenTrader.com, our service is not focused on market timing per se, but rather risk management. That may be a distinction without a difference, but it's how we approach the markets. We study signs that suggest it is time to raise or lower market exposure as a function of risk relative to probable reward. It is all about risk-adjusted expectations given existing evidence. Learn more about our service , research, models and indicators.
Follow us on Twitter for up to the minute analysis of market action.
Follow @sentimentrader