5 Trades Show Flight-To-Safety
---
---
This is an abridged version of our recent reports and notes. For immediate access with no obligation, sign up for a 30-day free trial now.
A concerted flight to safety
Looking at a handful of different flight-to-safety trades, it's evident that there has been a lot of risk-off positioning in recent months.
Ratios of the following four paired trades have had an extremely high positive correlation over the past 3 months:
Defensive / Cyclical
Large Cap / Small Cap
Inv Grade / High Yield
Gold / Copper
Low Volatility / High Beta
The correlations among the various is to a point that has typically coincided with extreme risk-off behavior among investors.

Over the past 30 years, when the correlations became this high, it typically led to good longer-term returns, though there were two large outliers.
S&P 500 Value Index
As Bloomberg noted, the S&P 500 Value Index has broken out to a new all-time high. It's the first one in well over a year.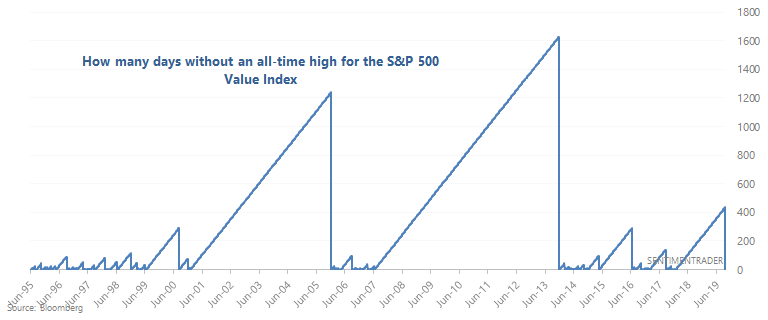 When the Value Index rallied to a new all-time high for the first time in 200+ days, it typically faced weakness over the next 1-2 months, even if it rallied further over the next 6 months.
Keep in mind that the sample size is small.

The post titled 5 Trades Show Flight-To-Safety was originally published as on SentimenTrader.com on 2019-10-25.
At SentimenTrader.com, our service is not focused on market timing per se, but rather risk management. That may be a distinction without a difference, but it's how we approach the markets. We study signs that suggest it is time to raise or lower market exposure as a function of risk relative to probable reward. It is all about risk-adjusted expectations given existing evidence. Learn more about our service , research, models and indicators.
Follow us on Twitter for up to the minute analysis of market action.
Follow @sentimentrader