4 Reasons Why Health Care Could Rebound
---
---
Health care's bad week
Health care stocks have gotten hit, and it's erased their year-to-date gain, while the S&P 500 has held up. The divergence between the two this far into a year is unusual.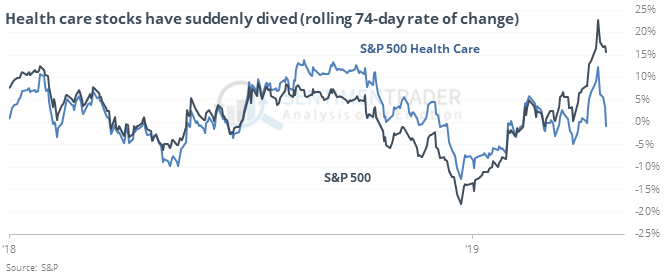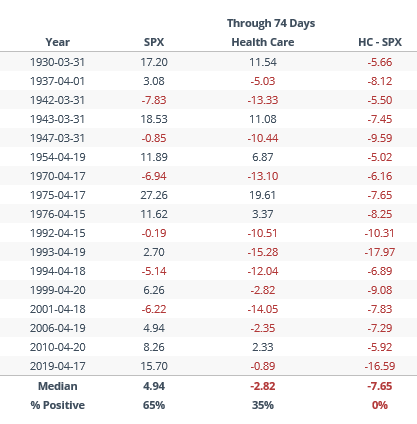 Other times health care underperformed by more than 5% through this many sessions into a year, it led to mixed returns for the rest of the year, both on an absolute basis and relative to the S&P 500.
Widespread selling
The selling in health care stocks has been widespread. Four different breadth metrics show how strongly the sector has declined from its recent range, and the kind of selling momentum it has generated.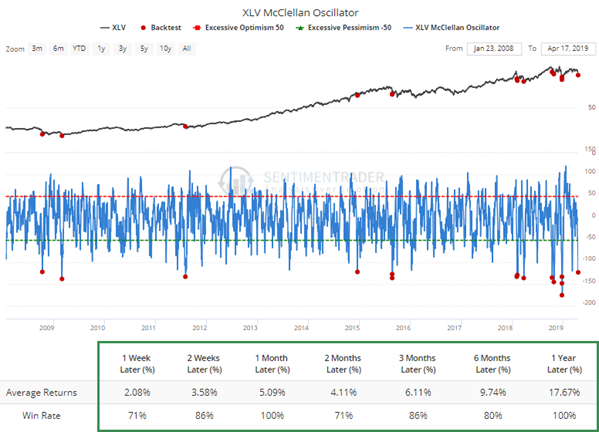 Most of them showed rebounds in the sector over the short- to medium-term after other times it was this severe.
Placing their bets
Active money managers in the NAAIM survey are the 7th-most bullish they've been out of the 668 weeks since the survey's inception, based on their average exposure, how much group-think there is, and how aggressive they are at the extremes. But it has not been a good contrary indicator, except maybe over the next week, when stocks showed more risk than reward.
Fill 'er up
The Optimism Index on unleaded gas is up to 75. Per the Backtest Engine, readings this high or higher led to six-month returns averaging -9.1%.
This post was an abridged version of our previous day's Daily Report. For full access, sign up for a 30-day free trial now.

Related Posts:
---
Tagged As:
The post titled 4 Reasons Why Health Care Could Rebound was originally published as on SentimenTrader.com on 2019-04-20.
At SentimenTrader.com, our service is not focused on market timing per se, but rather risk management. That may be a distinction without a difference, but it's how we approach the markets. We study signs that suggest it is time to raise or lower market exposure as a function of risk relative to probable reward. It is all about risk-adjusted expectations given existing evidence. Learn more about our service , research, models and indicators.
Follow us on Twitter for up to the minute analysis of market action.
Follow @sentimentrader