3rd Time's The Charm?
---
---
Rush for the exit
The latest BofAML survey of fund managers showed one of the largest monthly declines in exposure in 20 years. That seems like it should be a contrary indicator, but has been decidedly not, with consistent declines in the months ahead and almost no rallies, which contrarians would expect. That is starkly different following months when managers aggressively increased their exposure.
But exposure is now so low, it's harder to rely on it as a negative.
Third time's the charm
The Dow Industrials have clawed back from more than a 5% pullback and sit within 1.5% of their old high.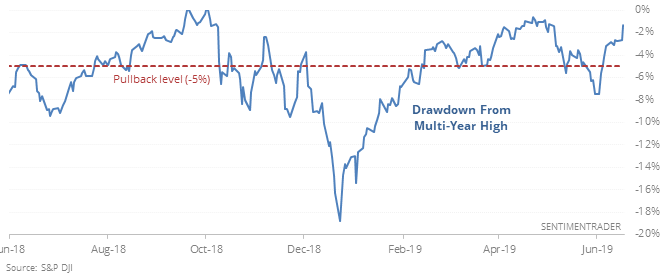 This is the 3rd time in the past nine months it has tried to break out. Since 1900, other times it tried three times in nine months, it typically succeeded, especially in recent decades.
Nice stretch
Since the S&P's drop to a 50-day low, there have been 3 days with NYSE Up Volume greater than 75%, and no days with less than 35%. After the 13 other times buyers have shown this must interest, the S&P continued to rise over the next month 11 times.
Anticipation
Buyers pushed the S&P 500 up more than 0.75% to at least a one-month high the day before a FOMC decision, perhaps anticipating a more dovish stance. The index has jumped before a meeting like this 15 times, leading to further gains on FOMC day 8 times, nothing special.
This post was an abridged version of our previous day's Daily Report. For full access, sign up for a 30-day free trial now.

Related Posts:
---
Tagged As:
The post titled 3rd Time's The Charm? was originally published as on SentimenTrader.com on 2019-06-19.
At SentimenTrader.com, our service is not focused on market timing per se, but rather risk management. That may be a distinction without a difference, but it's how we approach the markets. We study signs that suggest it is time to raise or lower market exposure as a function of risk relative to probable reward. It is all about risk-adjusted expectations given existing evidence. Learn more about our service , research, models and indicators.
Follow us on Twitter for up to the minute analysis of market action.
Follow @sentimentrader