350 Days To Nowhere, And Why Lagging Energy Isn't A Problem
---
---
350 days to nowhere
The Dow Industrials Average is trying to break out for the third time. It hasn't gone anywhere since late January 2018, which was 350 days ago. It saw minimal upside and substantial downside since then.

If we go back to 1900, there have been a handful of times it went this long with no real progress, in the process showing minimal upside and substantial downside. Other times it behaved like this, it broke to the upside each time, showing gains over the next 6 months.
Similar sectors
The S&P has mostly recovered from its pullback and move to within 1% of its prior high. Its being led by some defensive sectors, with energy badly lagging. There have been 20 other periods since 1928 when the S&P neared a high with a high correlation among the sectors.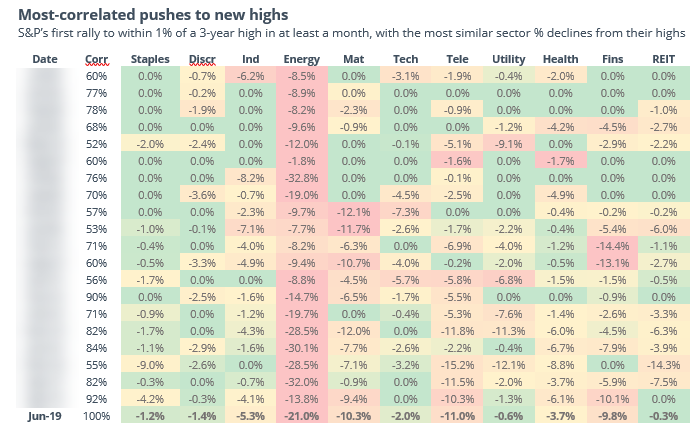 Other times it approached a high with the most similar sector leadership (and laggards), it tended to keep going, showing better returns than when there was a different mix of sector leaders.
An almost-guaranteed new high
Of the 99 times the S&P got to within 1% of a new high, it actually closed at a fresh high within the next week 59% of the time, within two weeks 76% of the time, and within 3 weeks 83% of the time.
Buy everything
Stocks, bonds, and gold all rallied on a day the FOMC announced their rate decision. Of the 17 other times they did this, SPY's most consistent performance was 8 days later, when it added to gains only 5 out of the 17 times, averaging -1.0%.
This post was an abridged version of our previous day's Daily Report. For full access, sign up for a 30-day free trial now.

Related Posts:
---
Tagged As:
The post titled 350 Days To Nowhere, And Why Lagging Energy Isn't A Problem was originally published as on SentimenTrader.com on 2019-06-20.
At SentimenTrader.com, our service is not focused on market timing per se, but rather risk management. That may be a distinction without a difference, but it's how we approach the markets. We study signs that suggest it is time to raise or lower market exposure as a function of risk relative to probable reward. It is all about risk-adjusted expectations given existing evidence. Learn more about our service , research, models and indicators.
Follow us on Twitter for up to the minute analysis of market action.
Follow @sentimentrader