3 Reasons to be Concerned About Bitcoin's Prospects
---
---
Cryptocurrencies have had one of the most explosive weeks in years.
After a plunge, recovery, plunge, and another recovery, traders became pessimistic enough to push some sentiment gauges to their lowest level in a year or more, which is already leading to a short-term bounce.
More than any other factor, volatility drives sentiment, especially in this market. So if we focus on that, we can get a handle on similar conditions.
One of the better ways to do this is to use the same calculations to create a synthetic VIX for stocks, which we last discussed in July. The calculation is based on five different models using open-high-low-close data.
This isn't as clean for crypto because there isn't necessarily a good cutoff point to determine trading sessions. We rely on Bloomberg's data of the Bitcoin/USD cross rate to determine session times.
When we use these models to craft a synthetic VIX, it spits out a number that has been matched few times in bitcoin's history, at just over 200%.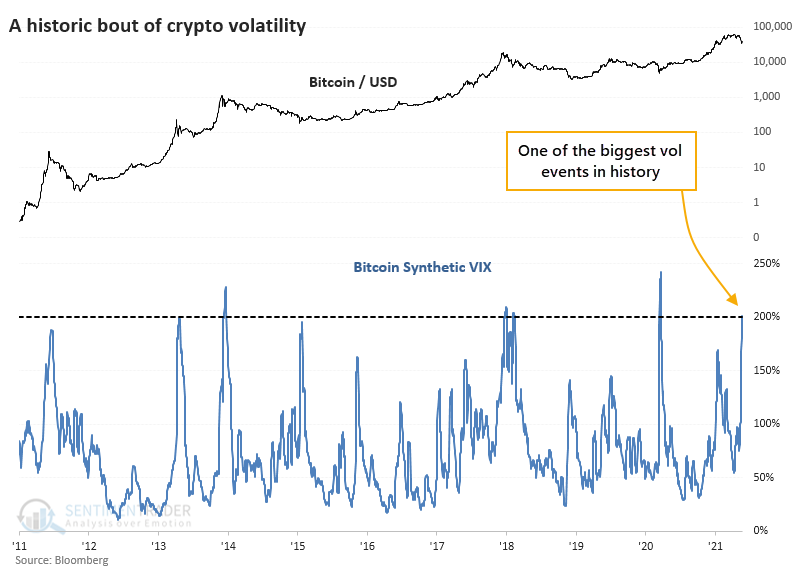 The only time that a volatility event like this marked a bottom was in March 2020, at the height of pandemic-related liquidations. That came after eight months of selling pressure, while this one did not - crypto markets were hitting record highs only a month ago.
There were three other times when bitcoin was recently at a peak, and then volatility spiked, twice in 2013, then again in 2017. All three preceded large and persistent losses for the coin.

Stat Box



Our Optimism Index Geo-Map shows that among all countries, investors are the least optimistic about Chile. Its 20-day Optimism Index just dropped below

25

. Over the history of the ECH fund, our Backtest Engine shows 9 other signals. It was too early during the pandemic, and outright failed in 2013. But the 7 other signals all preceded rallies over the next two months averaging more than 7%.
What else we're looking at
Full details following volatility spikes in bitcoin
What happened after long uptrends in bitcoin came to an end
Returns following bouts of extreme short-term bitcoin pessimism
A measure that shows a new extreme in corn
A way to take advantage of a QQQ Bollinger Band signal using options
Stocks in Taiwan have triggered another notable trading signal

Related Posts:
---
Tagged As:
The post titled 3 Reasons to be Concerned About Bitcoin's Prospects was originally published as on SentimenTrader.com on 2021-05-26.
At SentimenTrader.com, our service is not focused on market timing per se, but rather risk management. That may be a distinction without a difference, but it's how we approach the markets. We study signs that suggest it is time to raise or lower market exposure as a function of risk relative to probable reward. It is all about risk-adjusted expectations given existing evidence. Learn more about our service , research, models and indicators.
Follow us on Twitter for up to the minute analysis of market action.
Follow @sentimentrader