23 Billion Reasons Why Traders Want Stocks to Rally
---
---
With renewed interest in meme stocks and leveraged bets, the smallest of options traders are coming back.
After a record orgy of speculative excess in February, many of these traders lost significant sums, or at least it can be safely assumed they did. Most of their buying activity was in nearer-term expiration months, and the two stocks most consistently at or near the top of the most active list, Apple (AAPL) and Tesla (TSLA), have done nothing but drop since then.
All those call options likely expired worthless.
As noted in February, small traders had spent $44 billion on call premiums over the prior four weeks. Thanks to lower implied volatility and declining demand, premiums are down by more than half as of last week. Granted, that's still way above any prior extreme in the 20 years leading up to 2020, but at least it's the lowest since mid-November of last year.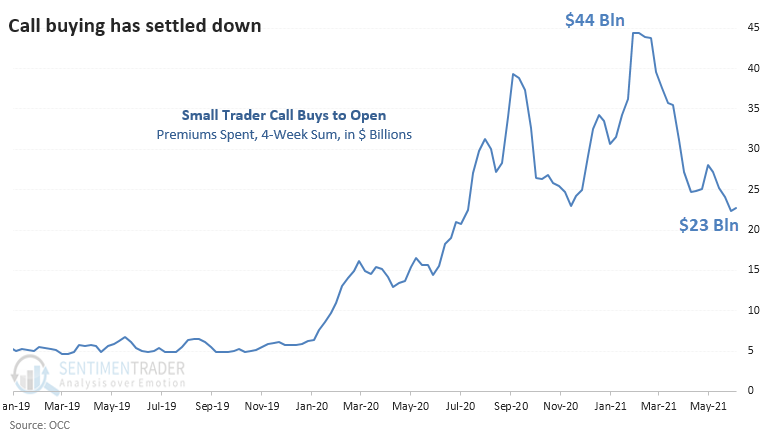 Much of that drop in enthusiasm can be blamed on Apple and Tesla and a few other former highflyers, along with a general malaise in stocks.
What else we're looking at
More details on last week's options trading activity
What it means when index options have many puts outstanding
Mexican stocks are heading north

---
Stat box



Overseas stocks have done very well and the McClellan Summation Index for France's CAC 40 Index crossed above +1,150. This is an indicator of long-term internal breadth momentum among stocks in the index. Our Backtest Engine shows it crossed above this threshold 19 other times, typically lead to short-term weakness but a higher level three months later 74% of the time.
---
Etcetera
Here we go again. Crypto market sentiment is dropping as bitcoin has fell below $32,000, half of its April peak. According to our Backtest Engine, Crypto Fear & Greed has been 10 or below 16 times, leading to a bitcoin rebound over the next month after 15 of them.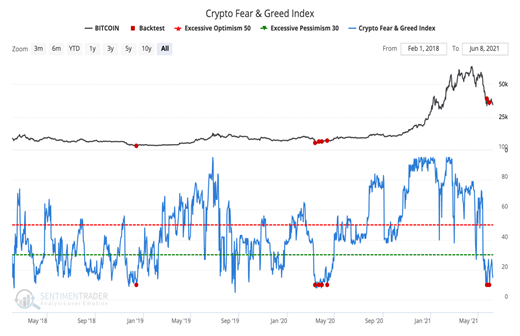 Don't spOIL yourself. Positive market sentiment is lifting our crude oil Optimism Index to one of its highest points in the last 5 years. In the past 10 years, a reading above 70 led to further gains for oil after only 6 out of 27 days over the next two months.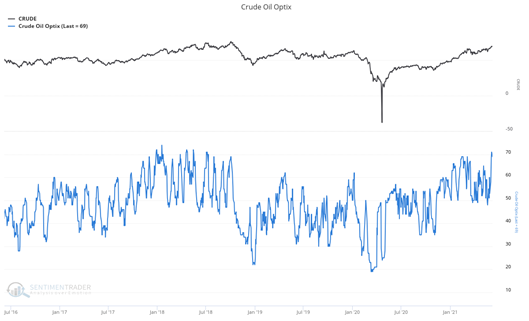 Staying home. Foreign investment in U.S. equities was cut in half in Q1 as overseas investors saw better bargains in their home markets than they did in the U.S. This is a retreat from record levels at the end of 2020.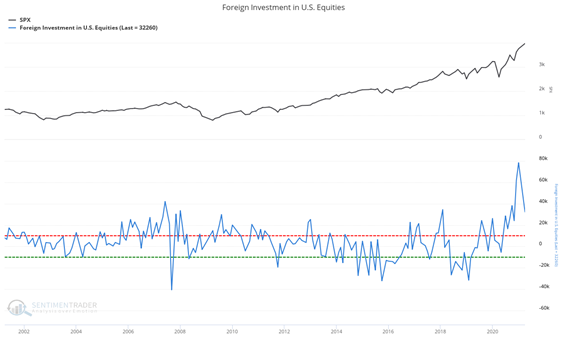 Related Posts:
---
Tagged As:
The post titled 23 Billion Reasons Why Traders Want Stocks to Rally was originally published as on SentimenTrader.com on 2021-06-09.
At SentimenTrader.com, our service is not focused on market timing per se, but rather risk management. That may be a distinction without a difference, but it's how we approach the markets. We study signs that suggest it is time to raise or lower market exposure as a function of risk relative to probable reward. It is all about risk-adjusted expectations given existing evidence. Learn more about our service , research, models and indicators.
Follow us on Twitter for up to the minute analysis of market action.
Follow @sentimentrader