2020 was just like...
---
---
Even with a rally to close the year at new highs, and a consistently positive December, Dumb Money Confidence dipped from its record high, while Smart Money Confidence increased a bit. Though both measures eased from recent extremes, the protracted difference in sentiment means that we ended the year with one of the lowest spreads since we began calculating this 22 years ago.
It's hard to blame investors for having such high confidence. The most-benchmarked index in the world had quite a year, with no other quite like it. Still, since 1928 there were 20 other years that had a correlation of greater than +0.60 (on a scale from -1.0 to +1.0).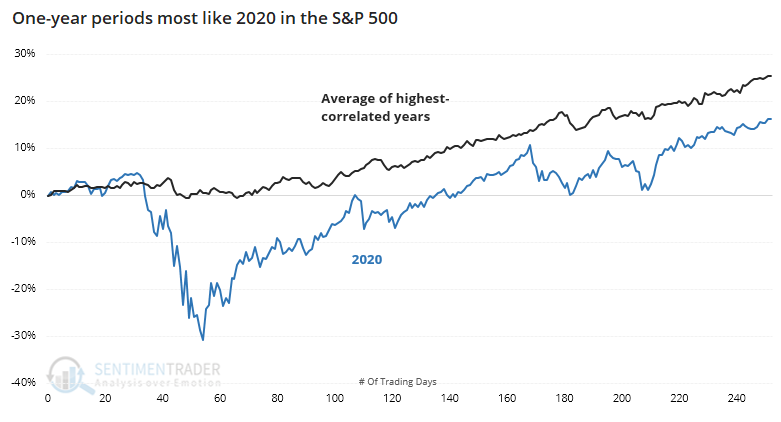 Going forward, those years showed modest positive returns, with a risk about equal to reward for the first two months. There was not a lot of consistency.
Among sectors, we saw the most extreme behavior in tech stocks. There were 15 other years that had a relatively high correlation to 2020, at least in the general path, but not in magnitude. At the other end of the spectrum, energy stocks had the worst year of any sector. The worst stretch of any sector ever, really, so there were no years that had a high positive correlation to 2020. There were 15 of them that showed a correlation above +0.25, which is relatively weak.
---
What else is happening
These are topics we explored in our most recent research. For immediate access with no obligation, sign up for a 30-day free trial now.
Full details on forward returns following the closest analogs to 2020 in the S&P 500
What happened to tech stocks since 1928 after years that most closely matched 2020
Same for energy stocks
What happens when a year ends with extremely high Dumb Money and low Smart Money Confidence
The VIX jumped by a large amount but is still relatively low
A look at recent behavior among options traders
What happens when bitcoin suffers a negative reversal
---
Stat Box

While the concept of a "trading day" is sometimes hard to define for currencies, bitcoin had a nasty one on Monday. It had rallied more than 5% to a new high the day before, then gave all those gains back the next day. That's happened 5 other times in the past decade, leading to losses over the next month after 4 of them.
---
Sentiment from other perspectives
We don't necessarily agree with everything posted here - some of our work might directly contradict it - but it's often worth knowing what others are watching.
1. In December, traders at a major retail-focused brokerage were the most active in a couple of years. Activity tends to increase when stocks are doing well. [TD Ameritrade]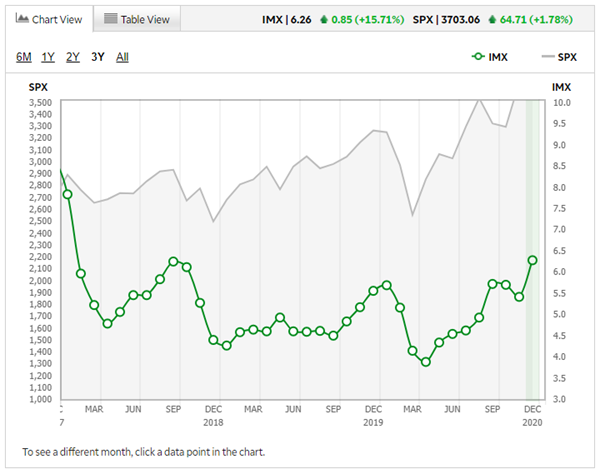 2. It's not just U.S. traders that have ignited a trading frenzy. In Germany, the stock prices of trading platforms have skyrocketed as trading volumes expand. [Holger Zschaepitz]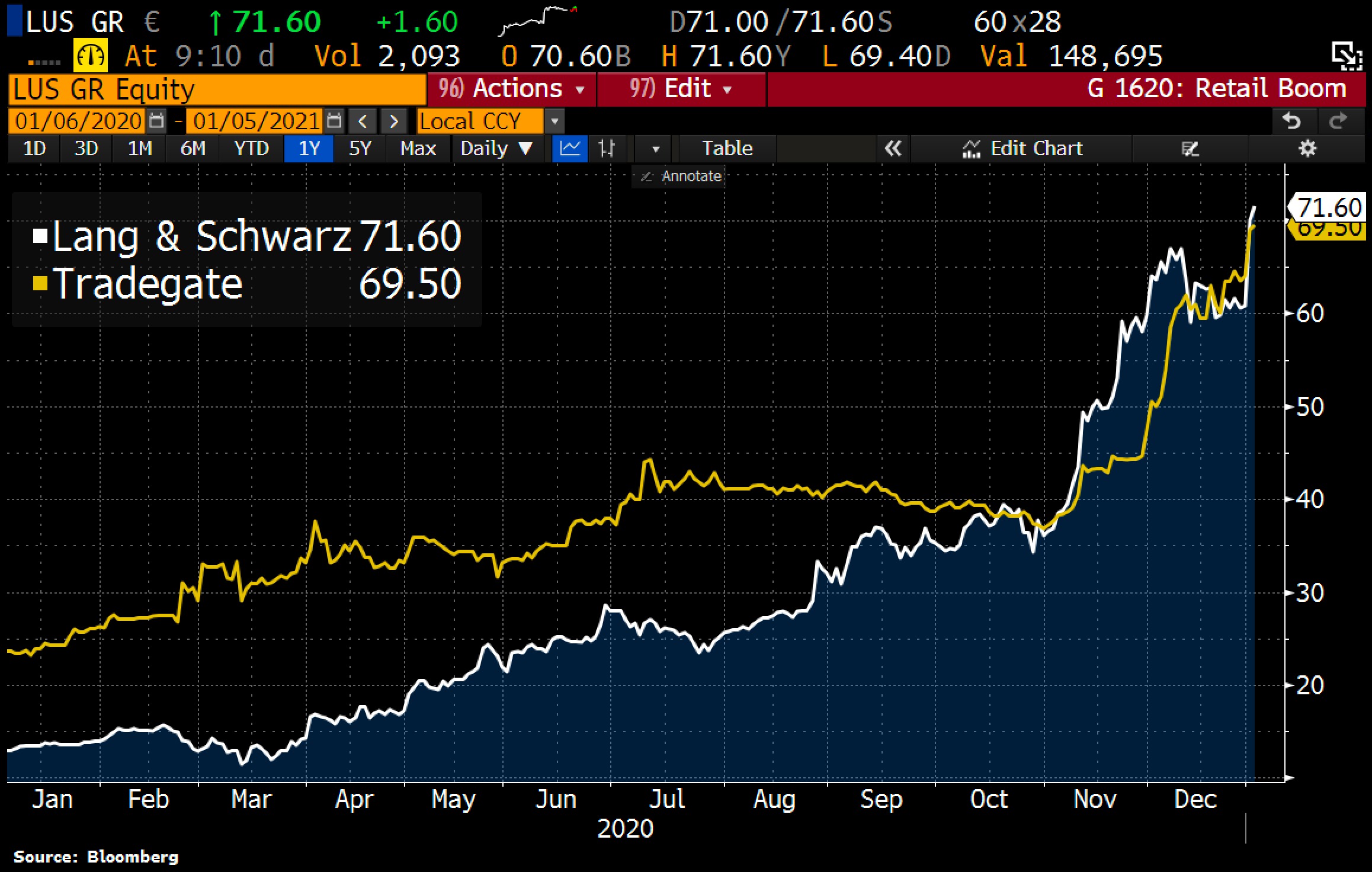 3. When the 1st trading day of the New Year sees selling pressure from investors, the full-year return has been about half that of years when investors were in a more ebullient mood. [Optuma]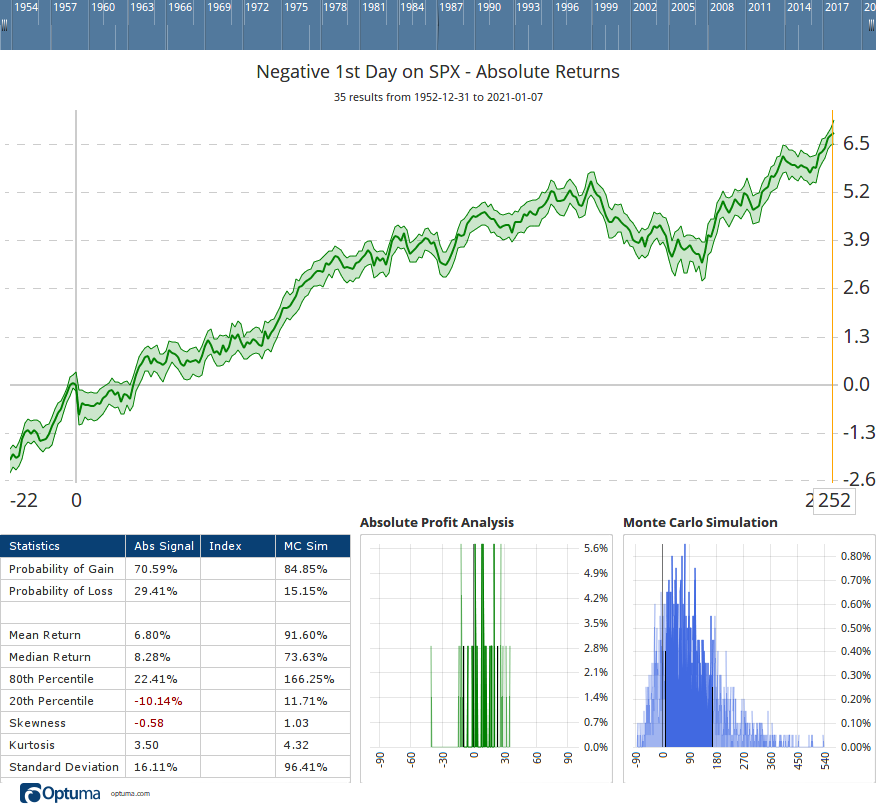 Related Posts:
---
Tagged As:
The post titled 2020 was just like... was originally published as on SentimenTrader.com on 2021-01-05.
At SentimenTrader.com, our service is not focused on market timing per se, but rather risk management. That may be a distinction without a difference, but it's how we approach the markets. We study signs that suggest it is time to raise or lower market exposure as a function of risk relative to probable reward. It is all about risk-adjusted expectations given existing evidence. Learn more about our service , research, models and indicators.
Follow us on Twitter for up to the minute analysis of market action.
Follow @sentimentrader