2 Reasons Why Earnings Season Is A Worry
---
---
Let the earnings begin
As companies start to report earnings this week, there is a fear that projected weak growth could be a stumbling block. To check, we go back to 1930 and look for every two-year span with the most similar earnings pattern of high growth, then low to negative growth, then higher growth again, which is what we're projected to see over the next year.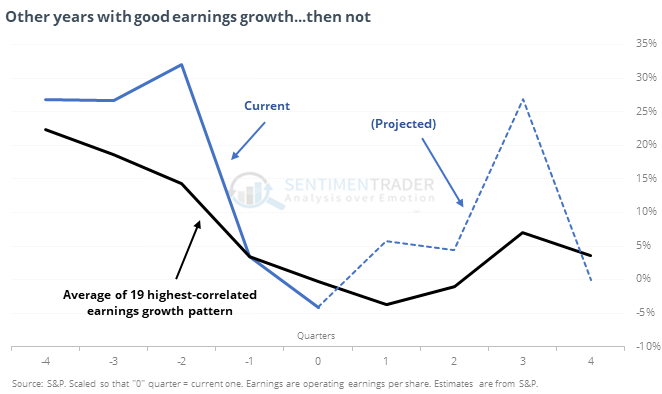 When the equivalent of the current quarter's earnings started being reported, a little over a weak after the end of the quarter, there was usually some weakness in the S&P. That persisted over the next month or so.
We've already rallied
Another common fear is that since stocks have already rallied, we're less likely to see further gains once companies being reporting their Q1 earnings.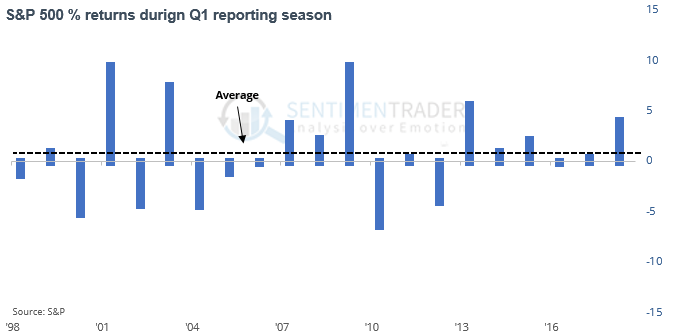 Stocks generally behave well during this reporting season, and the fact that the S&P was just at a 100-day high puts only a modest damper on the prospects.
8 in a row
The S&P stretched its winning streak to 8 days and scored a new 6-month high in the process.
This kind of price persistence when hitting multi-month highs was a modestly good sign over the medium-term.
Big spread
The spread between Smart and Dumb Money Confidence widened quite a bit, now to -53%. When the S&P 500 has been within 1.5% of a multi-year high and the spread is this wide, it has added to its gains over the next two months only 32% of the time, with a median return of -1.3% and risk of -4.1%.
This post was an abridged version of our previous day's Daily Report. For full access, sign up for a 30-day free trial now.

Related Posts:
---
Tagged As:
The post titled 2 Reasons Why Earnings Season Is A Worry was originally published as on SentimenTrader.com on 2019-04-09.
At SentimenTrader.com, our service is not focused on market timing per se, but rather risk management. That may be a distinction without a difference, but it's how we approach the markets. We study signs that suggest it is time to raise or lower market exposure as a function of risk relative to probable reward. It is all about risk-adjusted expectations given existing evidence. Learn more about our service , research, models and indicators.
Follow us on Twitter for up to the minute analysis of market action.
Follow @sentimentrader