This is an abridged version of our Daily Report.
Dow theory buy signal
Both the Dow Industrials and Transports have reached new highs. This is the first new high in the Industrials in months, following the previous breakout from Transports. Similar buy signals according to trend-following theory led to mediocre performance that was below any-time returns.
Another struggling sector
Homebuilders have not followed the market higher, with several of the stocks near 52-week lows.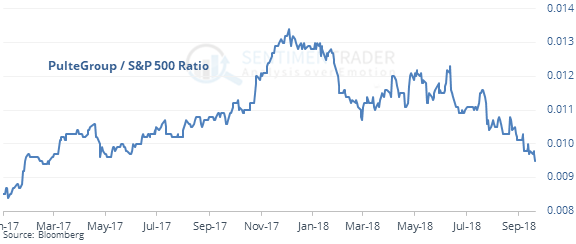 When these stocks lagged in the past as the S&P broke out to new highs, the S&P did fine going forward during the next several months, but several of them ultimately led to trouble.
Don't see this every day
The Dow jumped more than 0.75% to a 52-week high, and yet there were more securities trading down to a 52-week low than rising to a 52-week high on Thursday.
99 problems but the Dow ain't one
The Dow has closed at a multi-year high in September on 99 days since 1929. It averaged a return of 0.2% during the next month, with 56% of them positive, and -1.1% risk versus 1.6% reward.
F
or access to the full report, indicators, charts, screens, and Backtest Engine, log in or sign up for a free 30-day trial today.
---