The Probability of a Bear Market is Rising
The probability of a new bear market is rising. 
Now that data from May have been finalized, the Bear Market Probability model has risen to its highest level since January 2020. 
When the model is above this threshold, the S&P 500 has returned an annualized +3.4%. That's not disastrous, but it's well below average and only a sixth of the return when the probability is below 40%. Jay showed earlier that when it drops even further, below 35%, stocks gained almost without exception.
HOW IT'S CONSTRUCTED
Bear Market Probability is a model outlined by Goldman Sachs using five fundamental inputs:
The U.S. Unemployment Rate
ISM Manufacturing Index
Yield Curve
Inflation Rate
P/E Ratio
Each month's reading is ranked versus all other historical readings and assigned a score. The higher the score, the higher the probability of a bear market in the months ahead.
WHAT IT MEANS FOR FUTURE RETURNS
When we looked at this last March, we saw that it was going to plunge below 40%. While it was way too early in 2008, the other signals all preceded gains, and it added another win over the past year.
Let's look at the S&P's future returns when the probability cycles from low to high, from below 40% to above 65%.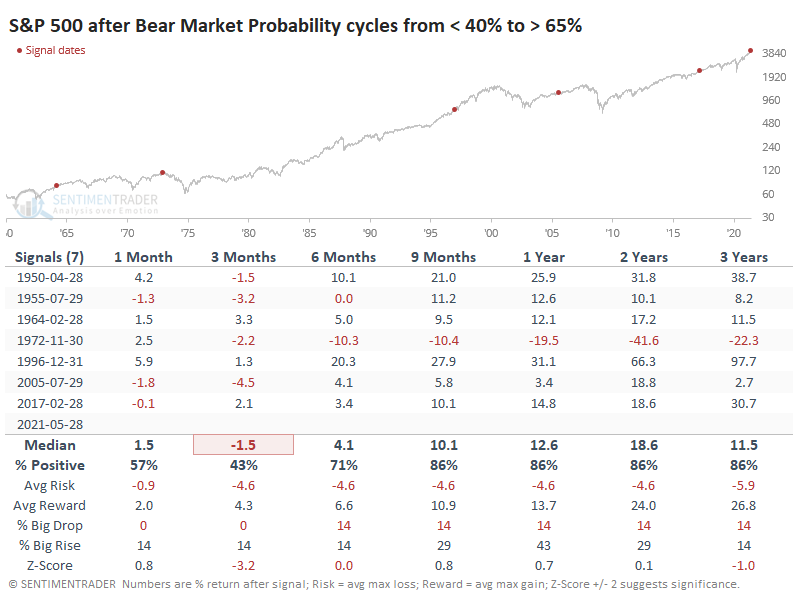 It took Bear Market Probability an average of 28 months to cycle from below 40% to above 65%.
Last year showed us one of the fastest-ever bear markets, then one of the quickest bull markets. So, it's not a big surprise that our current cycle took only 11 months, the shortest one ever. The previous shortest cycle was the one in November 1972 (a cycle of 12 months), which also preceded the biggest failure going forward, for what that's worth.
There isn't a lot in the table above that's concerning. Shorter-term returns were weak, but a couple of them within an already tiny sample bucked that weakness and saw consistent strength. Over the next year, all but two record double-digit gains. It will be a more pressing concern if Bear Market Probability climbs above 70%.