One of the worst days in market history
Wholesale selling
Many times over the years, we've seen that when more than half of a sector trades to a new low at the same time, it's a consistent signal that investors have panicked.
It doesn't happen very often in individual sectors, and it's even less common when looking at all of them together. That's what we saw on Monday, with over half of securities on the NYSE falling to a 52-week low.


Breadth statistics get less reliable the further back we go, especially on some individual days. Based on the data we have, such a spike in new lows occurred as stocks were tipping into bear markets in 1969 and 1973, though both of those also showed gains as stocks enjoyed a relief rebound over the next couple of months.
Other than those two, it only triggered during the final stages of meltdowns.
Put/Call
As plenty of market watchers on Twitter have noted, the Put/Call ratio spiked on Monday's stock market crash. Our De-Trended Equity Put/Call ratio is at a level that in the past, usually led to a S&P 500 rally over the next month.
The Total Put/Call ratio is now the most above its 6 month average ever: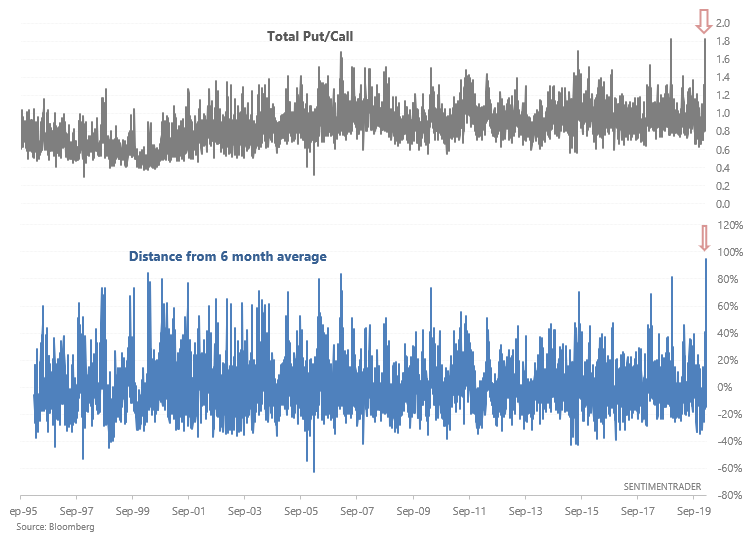 The only few comparable cases saw the S&P 500 rally over the next few weeks and months, even though 2 of these cases (April and October 2000) occurred at the start of a major bear market: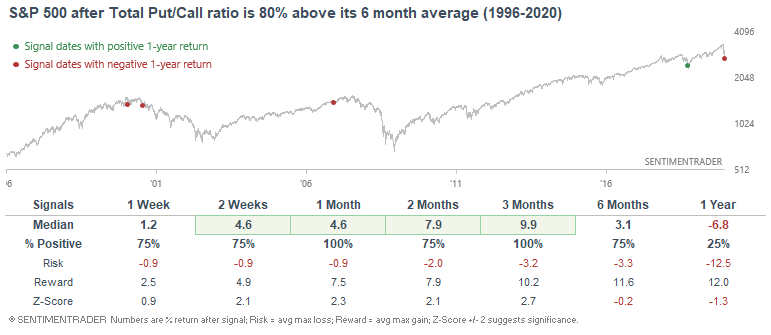 This is an abridged version of our recent reports and notes. For immediate access with no obligation, sign up for a 30-day free trial now.
We also looked at:
Monday's session showed the 3rd-worst breadth since 1962 on the NYSE
A detailed look at "worst-case" scenarios
Large opening gaps down tend to get filled
The Russell 2000 suffered one of its worst-ever days
The Russell fell into a bear market - what happens to the broader market
Energy stocks had the worst day since 1926
Those stocks are now down 50% from their 52-week high
A jump in new lows among indexes
A historic number of stocks on the Nikkei are oversold
What happens when Treasuries get this overbought on a monthly time frame