Macro Conditions Are Plunging
The fundamental outlook is deteriorating. We've seen that in a drumbeat of reports that have disappointed economists in recent weeks.
The SentimenTrader Macro Index Model is designed to track the ebb and flow of an economic expansion. To differentiate "temporary slowdowns" from real problems, we look for SIGNIFICANT macro deterioration. Our Macro Index combines 11 diverse economic indicators to determine the state of the U.S. economy right now.
New Home Sales
Housing Starts
Building Permits
Initial Claims
Continued Claims
Heavy Truck Sales
10 year - 3-month Treasury yield curve
S&P 500 vs. its 10-month moving average
ISM manufacturing PMI
Margin debt
Year-over-year headline inflation
At the end of August, Jay notes that the Macro Index Model dropped from .64 to 0.46.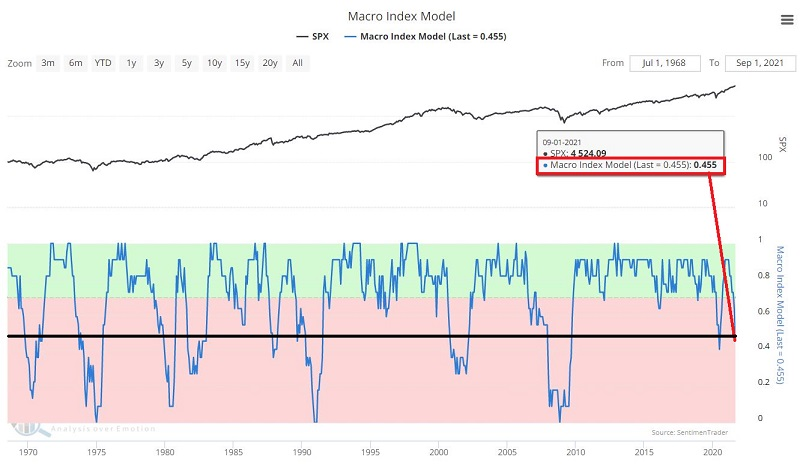 Historically, S&P 500 Index returns in the year ahead following a drop below 0.46 have been lukewarm at best and certainly well below average.
If we consider the price trend for the S&P 500 Index when the Macro Index Model drops below 0.46, a different pattern emerges. Previously, when the Macro Index Model has broken down while accompanied by price strength, stock market performance going forward has been fairly robust, like what happened last year.
It should be noted that these results are based on a tiny sample size, so while we can discount the drop in fundamental inputs, we shouldn't be too confident that it's a non-event entirely.

---
What else we're looking at
Returns following a drop in the Macro Index Model depending on the trend in the S&P 500
A reversal signal triggered in the Nasdaq McClellan Oscillator
Stat box



The McClellan Oscillator for the Nikkei 225 has risen above +100 for only the 2nd time in a year. The other was in early November 2020.
---
Etcetera
Confidence is coming back. After curiously declining for months, our multi-month Optimism Index is rising back toward "excessive optimism" territory...not that extremes have meant anything in a record-setting year.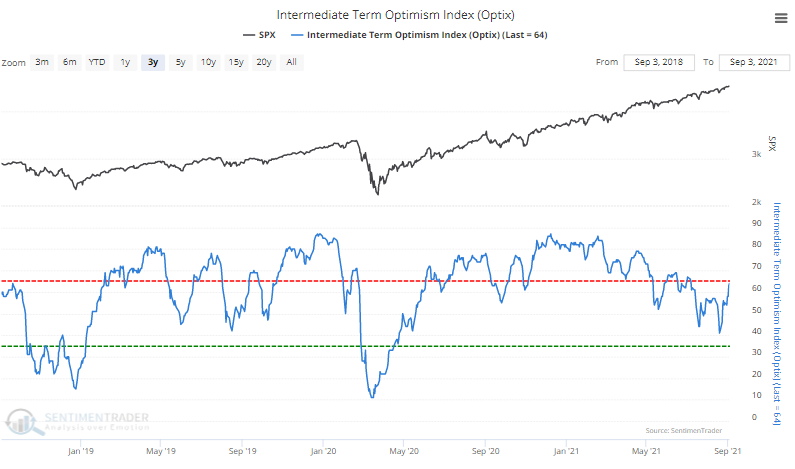 Pockets of pessimism. Not every indicator is showing optimism. There are currently more than 3 put options outstanding for every 1 call option in the OEX, an index of the largest 100 companies in the S&P 500.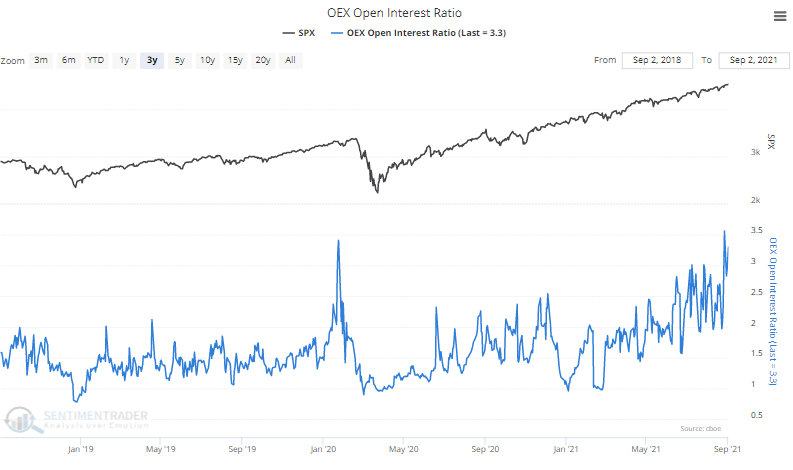 Fleeing Financials. The dip in Financial stocks last week triggered a more than $600 million outflow from the XLF fund, the 4th-largest exodus of the past 6 months.