Investment-grade bonds are surging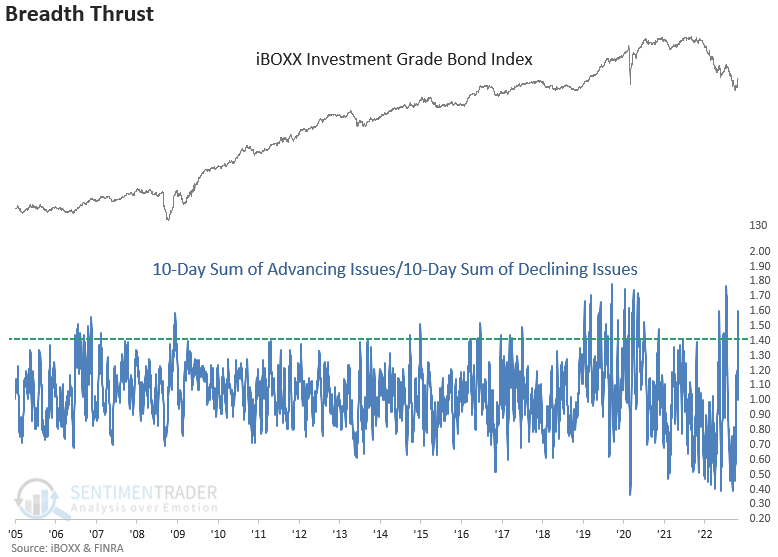 Key points:
Investment-grade bonds are surging, triggering a new breadth thrust signal

After similar bursts in participation, investment-grade bonds and stocks rallied

An investment-grade bond index surged by the third most significant amount in history
A breadth thrust buy signal for investment grade bonds
Investing styles go in and out of favor through different market cycles. The same is true for indicators and trading models. Some work better than others in different environments. When a trading signal is out of favor, we should continue to monitor the model if the long-term track record remains solid.
One such indicator that has struggled in the current environment is breadth thrusts. Breadth-based signals thrive duirng periods of ample liquidity, which is hardly the case now, with central banks draining liquidity.
With the relentless rise in the dollar and interest rates subsiding over the last few weeks, a trading model generated a new breadth thrust signal for investment-grade bonds this week.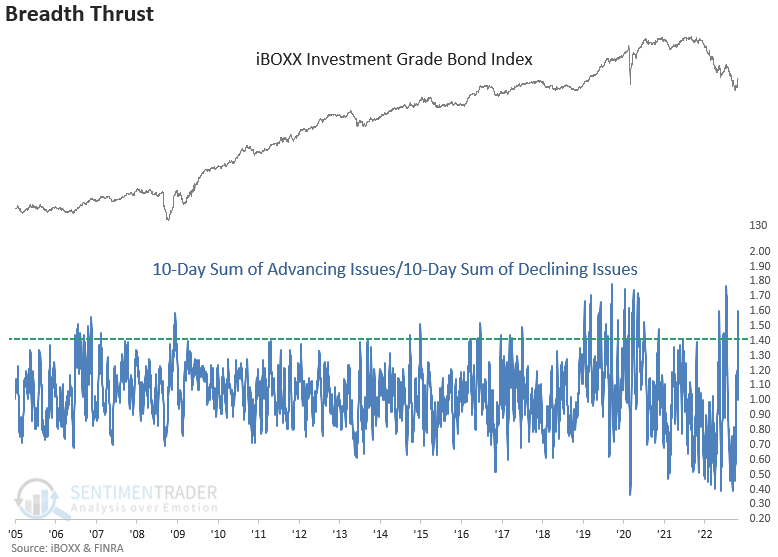 The breadth thrust alert triggers when the 10-day sum of investment-grade advancing issues exceeds the 10-day sum of declining issues by a ratio of 1.41. I use a reset condition to screen out repeats, which requires the ratio to fall below 0.81 before a new signal can trigger again.
Similar surges in participation preceded gains 76% of the time
Despite hitting a recent rough patch, the breadth thrust signal for investment-grade bonds has a solid historical record.
I want to reiterate two crucial points from my previous investment-grade note. First, inflation and Federal Reserve policy are unlike anything we've seen in the data's history. Second, the 2008 signal never showed a loss even though stock indexes declined for an additional four months. So, there's a precedent for investment-grade bonds bottoming before stocks.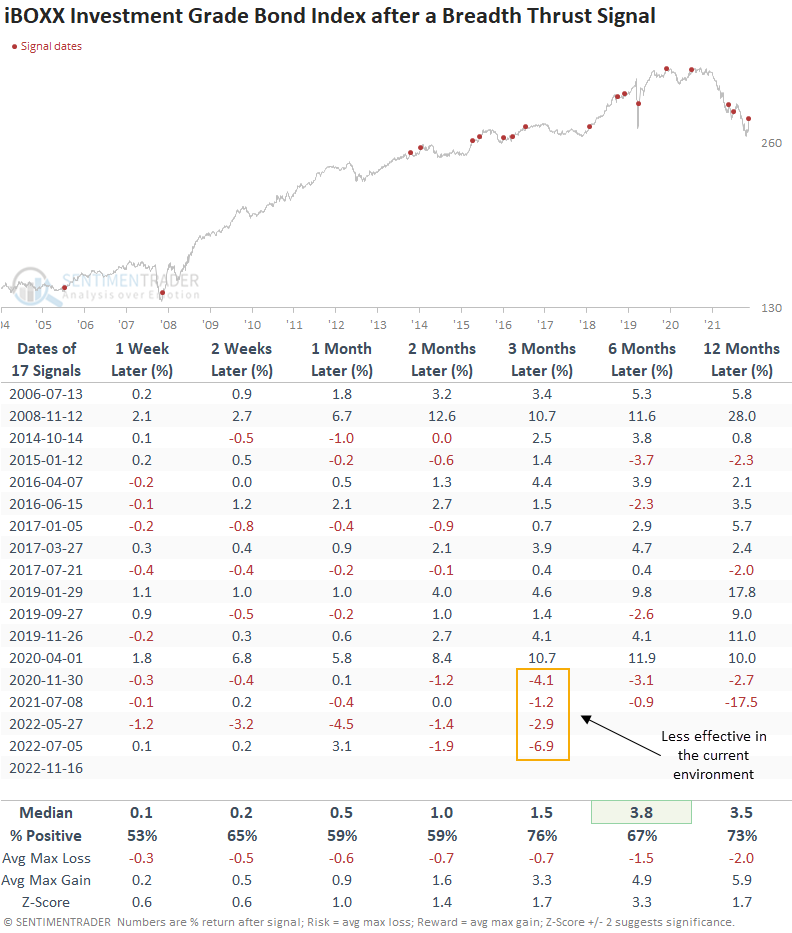 Stock indexes like breadth thrust signals from investment-grade bonds
When investment-grade bonds trigger a breadth thrust, stocks take note, with excellent results across all time frames. And the more recent alerts have faired better than the investment grade results, with a gain at some point over the next few months in 3 of 4 cases.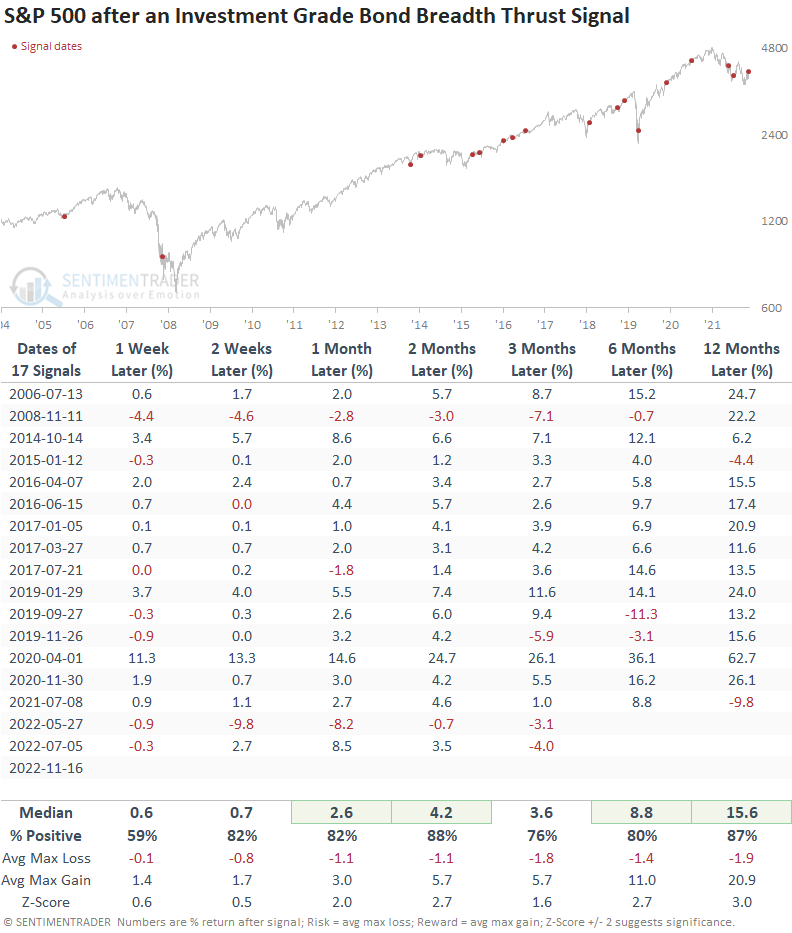 What's different this time
One significant difference between the current breadth thrust signal and the previous ones since investment-grade bonds peaked in 2021 is momentum at the index level. Over five days, the iBoxx investment-grade bond index surged to the third-highest level in history. 
The burst in price momentum looks similar to other major inflection points in 2008 and 2020.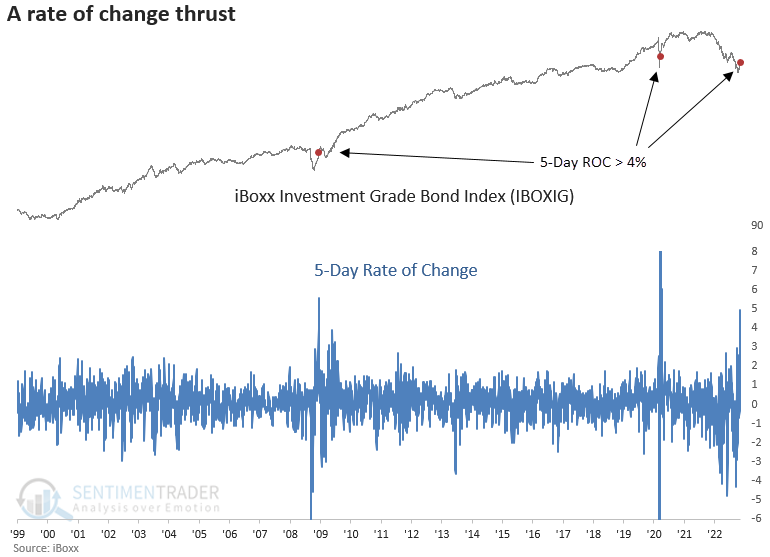 What the research tells us...
One thing is clear post the better-than-expected CPI report, stocks and bonds will respond favorably to an environment where inflation is less of a headwind. This week, investment grade bonds joined the breadth thrust party with a new alert. While more recent signals have been less effective due to inflation and monetary policy, we should continue to mind the market's message as the environment could change.