Does this indicator mean that smart money is selling?
You wouldn't know it by the last couple of days, Friday in particular, but the past few months have been dominated by late-day selling pressure.
The Cumulative Last Hour indicator looks at the last hour of trading in the S&P 500 fund, SPY. If the fund rises during that hour, then the indicator adds 1 to the running total. If it drops, then it subtracts 1.
Recent months have seen a continual erosion in the indicator, to the point where it's at the lowest level in 6 years. When stocks have been persistent hitting new highs while the Last Hour indicator was plumbing new lows, it has been a warning sign.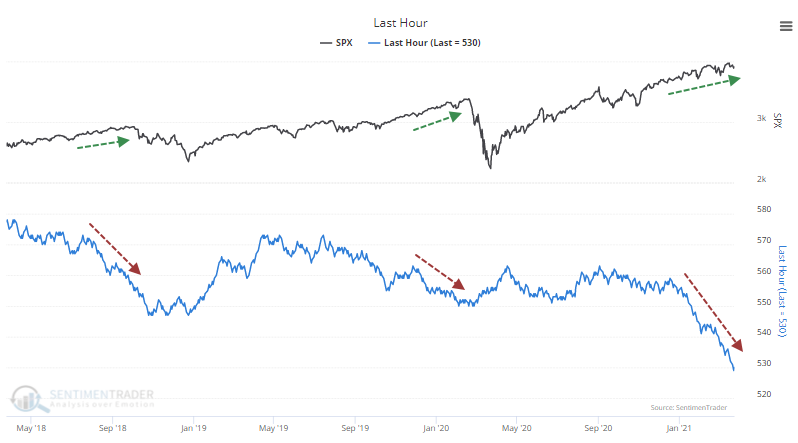 What may be especially notable about the current behavior is just how persistent the selling has been during the last hour. Over the past 3 months, the indicator has dropped 5%, which doesn't sound like a lot, but it's the biggest drop in 25 years. 
What else we're looking at
Detailed returns after other big drops in the Last Hour indicator
What happens when stocks hit a 52-week high and the Last Hour indicator a 52-week low
Why the last hour might have changed in recent years
Looking at a trading system using sector members above their short-term moving averages
A detailed look at sector returns during April - with one major standout sector

Stat Box



On Monday, the S&P 500 closed within 0.1% of its 52-week high, but fewer than

35%

of NYSE issues advanced, and less than 35% of volume flowed into those issues. This is the weakest breadth in at least 60 years with the S&P so near its high.
Etcetera
Not so boring now. The utilities sector doesn't usually get people's hearts racing, but over the past 3 days, the Optimism Index has averaged 85%. In the history of the XLU fund, there have been 66 other days with a reading this high according to our Backtest Engine.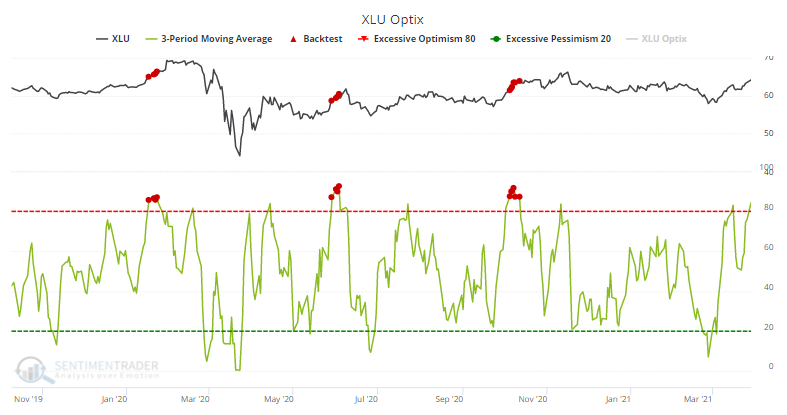 All aboard. It's pretty unusual to see every stock agreeing, but in the Utilities sector, every stock is currently enjoying an uptrend.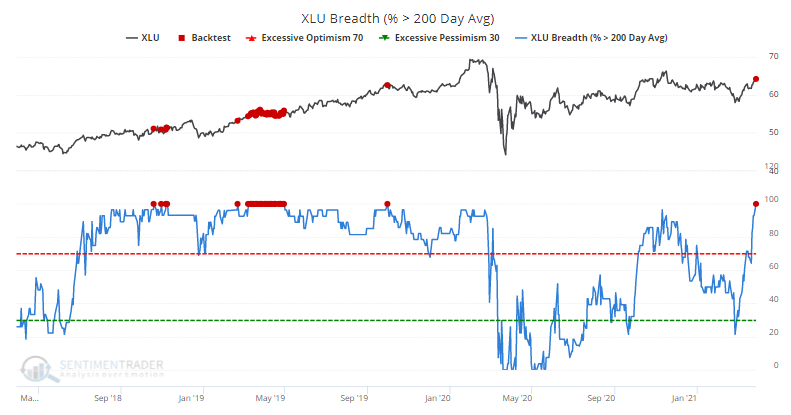 Insiders are believers. Among all sectors, corporate insiders have been among the most positive in Utilities stocks. The Insider Buy / Sell Ratio for the sector has jumped into positive territory.