Wall Street Is Technically Bullish, Fundamentally Bearish
Technically bullish, fundamentally bearish
In recent weeks, Wall Street analysts have been raising price targets on stocks within the S&P 500. At the same time, they've been lowering their earnings estimates.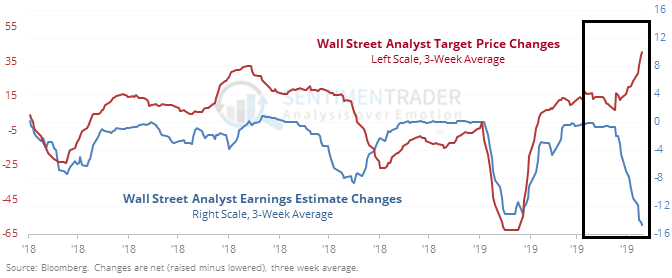 Usually, there is a positive correlation between the two. When there is a divergence like this, it has been a negative for the earnings season. When analysts were fundamentally bullish but technically bearish, though, stocks rose every time.
Pro-growth
Growth stocks have been beating value for years, and there have been countless reasons to expect it to change, yet it hasn't. The ratio of a global growth index to a value index is back to its prior peak.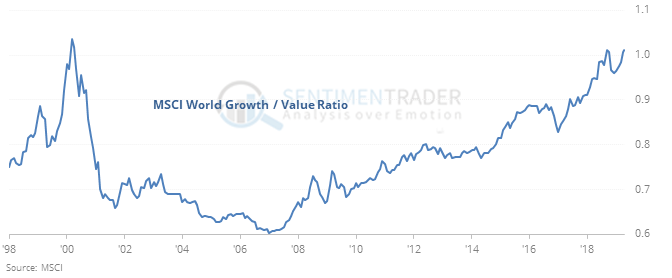 Over the past 40 years, the other times it neared this level and rolled over, it was bad for the S&P, horrible for growth stocks, and "not too bad" for value.
Get ready for fireworks
The JP Morgan FX Volatility Index has collapsed. In the past 27 years, it has sunk to an extremely low level like this three other times. Over the next year, the U.S. dollar rallied 15% (1996), dropped 11% (2007), and rallied 26% (2014).
The latest Commitments of Traders report was released, covering positions through Tuesday
The 3-Year Min/Max Screen shows that hedgers established a multi-year extreme long position in Nikkei futures, more than 48% of open interest. They moved to multi-year shorts in the Mexican peso, cattle, and hogs.
This post was an abridged version of our previous day's Daily Report. For full access, sign up for a 30-day free trial now.