This indicator shows the most speculation since 2000
Over the past couple of months, we've been raising the alarm on several pockets of speculative activity, which had reached or exceeded all prior records.
Bullish options trading, IPO and add-on volume, and penny stock trading were among the most egregious examples. With the latter, it's only getting more extreme.
The latest figures are out, covering activity through the end of February, and it shows an increasing willingness to trade the riskiest securities available to individual investors.
The number of shares traded has jumped to nearly 2 trillion shares (yes, trillion).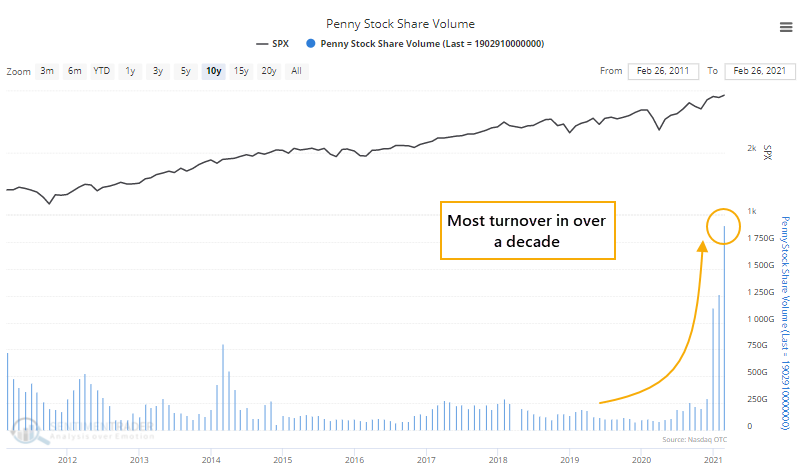 Zooming out further, we can see that only a few months in early 2006 exceeded this pace of activity.
The dollar volume traded rose to nearly $84 billion, again the highest in the past decade. Going back nearly 30 years, February's activity was only exceeded by January - March of 2000.
What else we're looking at
A closer - and further out - look at penny stock transactions in February
Initiating a deep dive into inflation, how it's measured, and what it's meant
The S&P 500 showed a highly unusual break internally on Tuesday
What happens when the Dow hits a high and the Nasdaq is well below its own

Stat Box



On Wednesday, the Dow Industrials closed at a new high, while the Nasdaq Composite closed more than

7%

below its own high. Dating back to 1971, this has happened 10 other distinct times. Going forward, the Nasdaq tended to underperform the Dow across multiple time frames.
Etcetera
Mutual fund timers don't like bonds. The assets in bullish bond funds at the Rydex fund company are the lowest relative to bearish bonds funds in more than five years.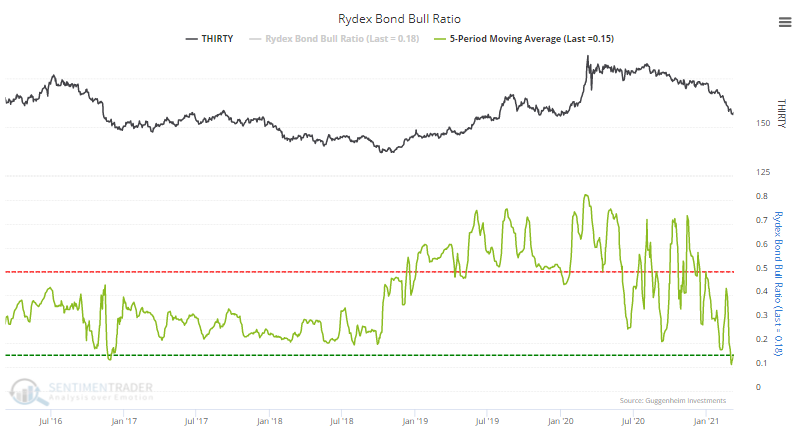 Stocks have a bit more tailwind. Judging by the calendar, stocks have a little over a week with a seasonal tailwind, before it turns into a headwind during the last two weeks.

Brazilian stocks getting waxed. Internal selling pressure among stocks on Brazil's Ibovespa exchange has been so heavy and prolonged that the McClellan Summation Index just crossed below -1200, among the lowest readings in nearly 20 years.