This Granddaddy of All Indicators Just Broke Out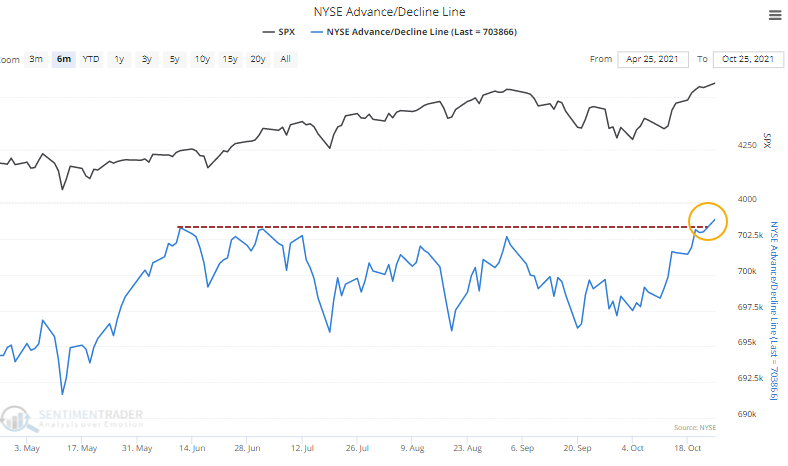 Earlier this week, the Advance/Decline Line for S&P 500 stocks broke out to a new high. A line that incorporates the breadth of all securities traded on the NYSE hadn't quite done the same. Now it has.
For the first time in more than 90 days, the NYSE Cumulative Advance/Decline Line is sitting at a record high. Analysts have focused on this indicator since the earliest days of widespread data dissemination.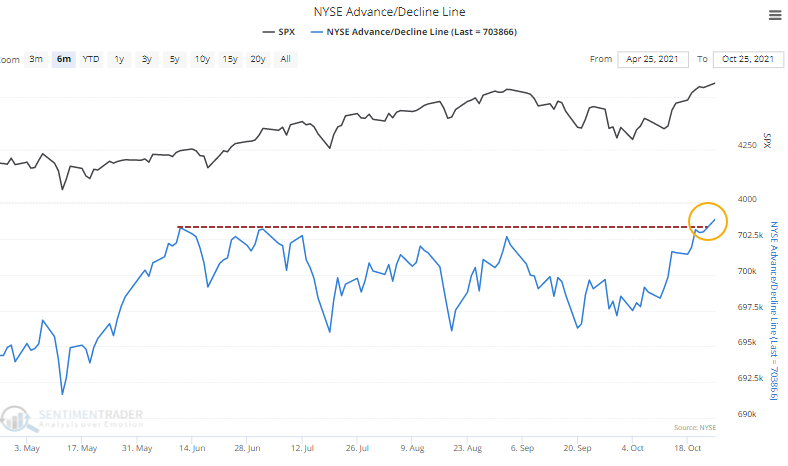 There are all kinds of things traded on the NYSE, with some arguments being that they should be excluded. That's a mistake. Securities with a smaller capitalization or that are especially sensitive to interest rates are suitable to include in breadth measurements.
New highs in the NYSE A/D Line have consistently preceded stock gains since 1928. Over the next three months, there were no losses greater than -8.5% at any point for any signal. On average, drawdowns were limited to only -1.6%.
Just because cumulative breadth measures like the Advance/Decline Line are sitting at new highs, it does not mean stocks can't decline. They can; they can even crash. 
The biggest difference is that those significant declines usually began a prolonged "everything" rally in the A/D Line. They rarely happened when the A/D Line was just breaking out to new highs.

---
What else we're looking at
Full returns and risk vs. reward in the S&P 500 after new highs in the A/D Line
A detailed look at Tesla options and ways to trade it based on implied volatility
---
Stat box



According to the ISE exchange, options traders bought more put options than call options on stocks on Wednesday. That's the 1st time since June 2020 they ostensibly were betting more on stocks declining than rallying.
---
Etcetera
No betting on banks. Corporate insider buying transactions among financial firms have fallen to the lowest level in a decade over the past 6 months.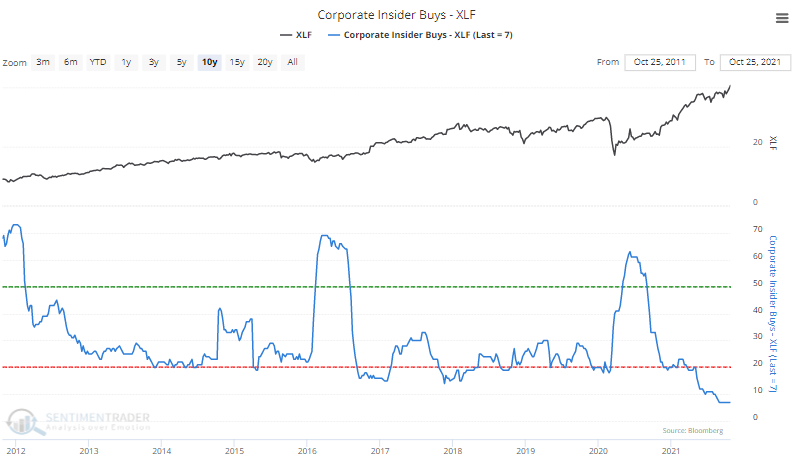 Bored with bonds. Shares outstanding in the LQD investment-grade corporate bond fund have sunk to their lowest level in over a year as investors' interests get pulled into more exciting areas of the market.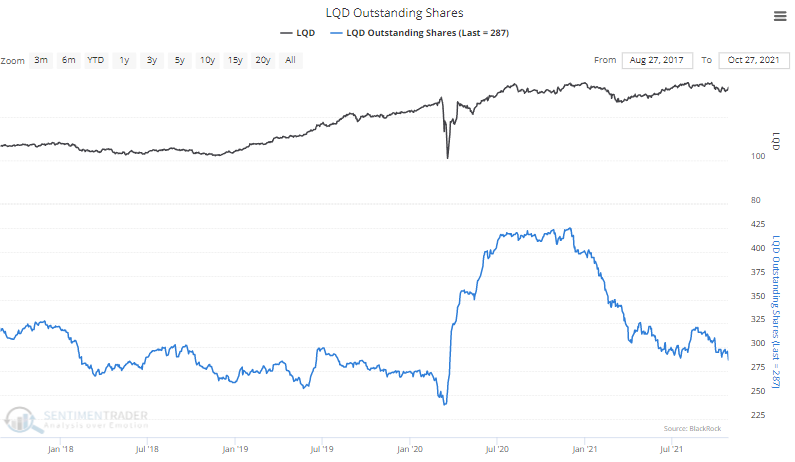 Big Tech is where it's at. After alternatives came to market several years ago, shares outstanding in the QQQ Nasdaq 100 trust shriveled. Thanks to rip-roaring performance lately, demand has skyrocketed and shares are nearing a decade-high.