These 2 sectors soar when sentiment plunges
Consumers give up the ghost
The latest survey results from the University of Michigan shocked economists.
For the first time since 2012, the overall level of consumer confidence was below 70, well below even the most negative economist on Wall Street. If it holds up, it would be the worst miss versus expectations in 22 years.
This ended the 2nd-longest stretch of readings above 70 since 1978.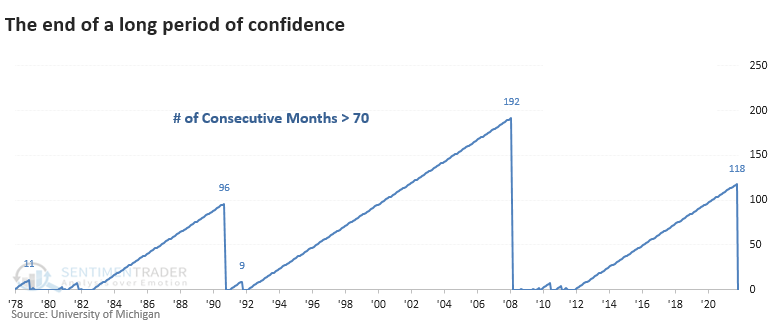 We all know the difficulty of relying on a sample size of 3, so the caveats are huge. The 1978 and 1990 drops in sentiment preceded gains of more than 35% in the S&P 500 over the next couple of years. The 2008 signal was near the beginning of the Global Financial Crisis (GFC) and major losses.
Among sectors and factors, there were two that stood out against all the others, Small-Cap and Value.

Stat box



Fewer than 5% of Energy sector stocks are trading above their 10-day moving averages. Of the 29 other days in the past year with so few short-term uptrends, XLE showed a positive return 2 weeks later after 25 of them, according to our Backtest Engine.
Retail responds well to Sales report
Dean noted that the equal-weighted retail ETF (XRT) was up 1.06% on Tuesday, which means participation was broad-based even though Amazon was down on the day. This was a day when the Retail Sales Report was released.
A similar signal has triggered 30 other times over the past 21 years. After the others, future returns and win rates were above historical averages across almost every time frame. 
With retail seasonality about to turn positive, Dean also looked at the outlook for the Retail Sales study when the signal triggers in November or December.

This signal has occurred 7 other times over the past 24 years. 

A "power period" for Mid-Caps
Jay noted that the often-overlooked Mid-Cap group of stocks is about to enter a seasonal power period.
The chart below displays the cumulative growth of $1 invested in the S&P 400 Index (price-performance only) every year during these power periods since the index began in 1981.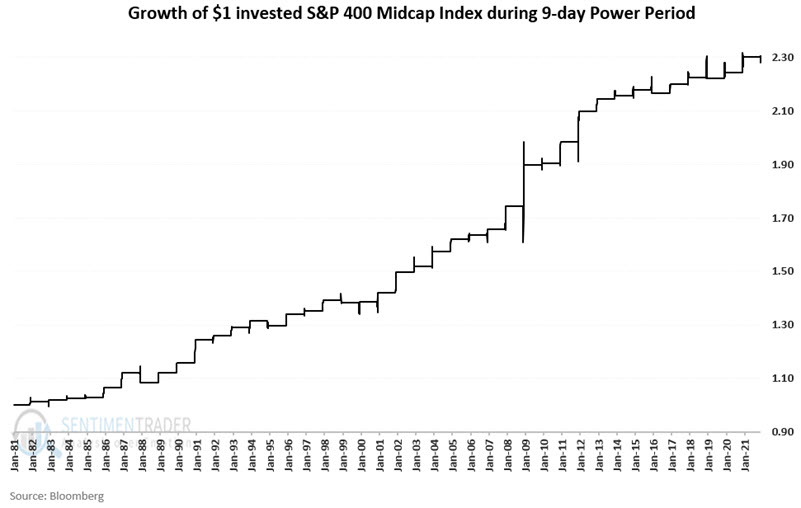 Traders can employ this strategy using ticker IJH (iShares Core S&P Mid-Cap ETF) or ticker MDY (SPDR S&P MIDCAP 400 ETF Trust) to track the S&P 400 Midcap Index.