Stocks in the S&P 500 Have Made a Stunning Comeback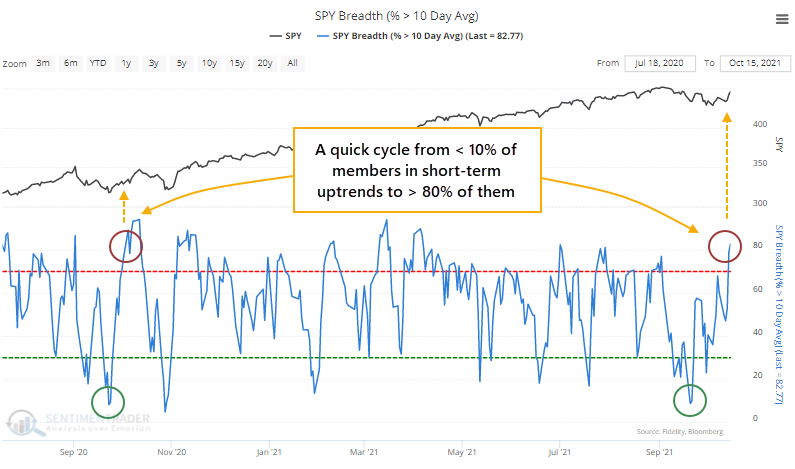 At various points during the summer, there were odd stretches where indexes like the S&P 500 were pushing higher but with a troubling lack of participation.
Each time, the situations resolved by the indexes moving even higher. As the indexes stumbled in September, though, there was a quick washout among stocks. By September 20, fewer than 10% of stocks in that index held above their 10-day moving averages.
Then buyers stepped in, and by the end of last week, more than 80% of members were trading above their averages, a stark change in less than a month.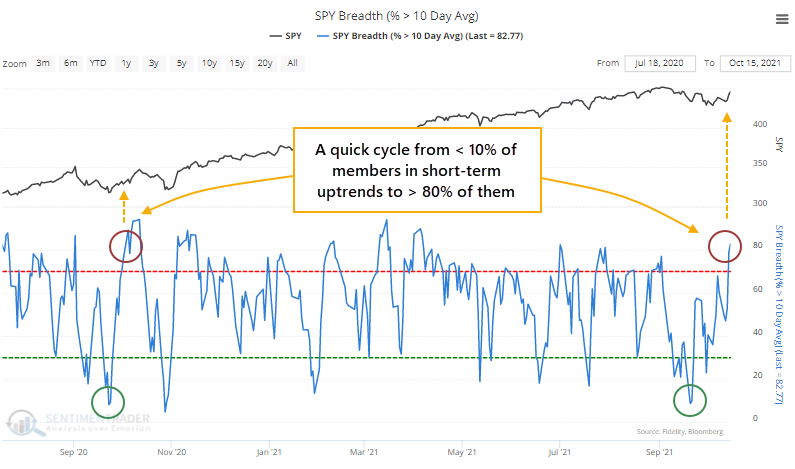 The only recent time we saw a similar move was almost exactly a year ago. That essentially marked the end of that corrective period.
Typically, breadth swings like this during times of general market volatility. It's much rarer to see cycles from very low to very high figures within a few weeks of each other when stocks are trading near their highs.
When we go back to 1928 and look for times when fewer than 10% of S&P members were above their 10-day averages, then more than 80% of them were within a month, only a handful of signals triggered when the S&P was trading within 1.5% of a multi-year high. 

---
What else we're looking at
What breadth thrusts meant for the S&P 500 when it was near a peak
Our Risk-On/Risk-Off Model is triggering a reversal signal
A way to use Smart and Dumb Money Confidence that showed gains every time
---
Stat box



The Market Vectors Oil Services ETF (OIH) has risen for 9 consecutive sessions. That's the longest streak since its inception, beating the prior record from early November 2017.
---
Etcetera
Crude hopes. Traders are among the most bullish on crude oil in a decade. At 72%, the Optimism Index now ranks among the highest readings since 2012. Our Backtest Engine, available to all premium users, shows an average return of -4.8% in the two months following other high readings.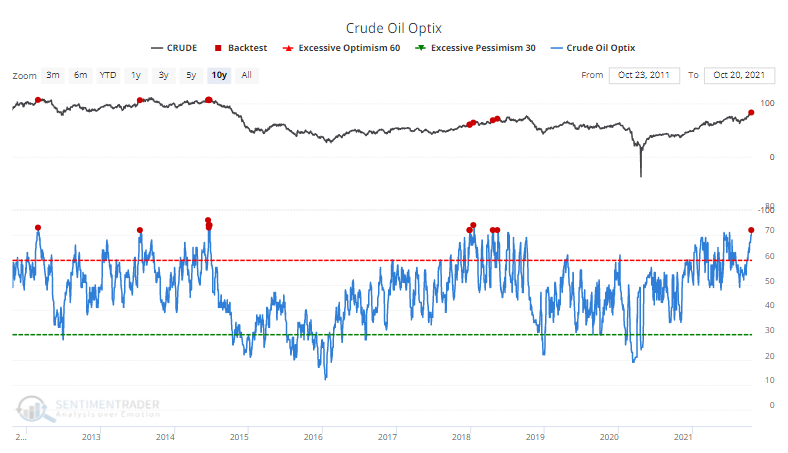 Nothing but 'net. Emerging market technology stocks, and Chinese internet stocks, in particular, were among the most hated stocks in the world a few weeks ago. Times have changed. Over the past five days, the average Optimism Index on EMQQ has risen to its 2nd-highest level in a year.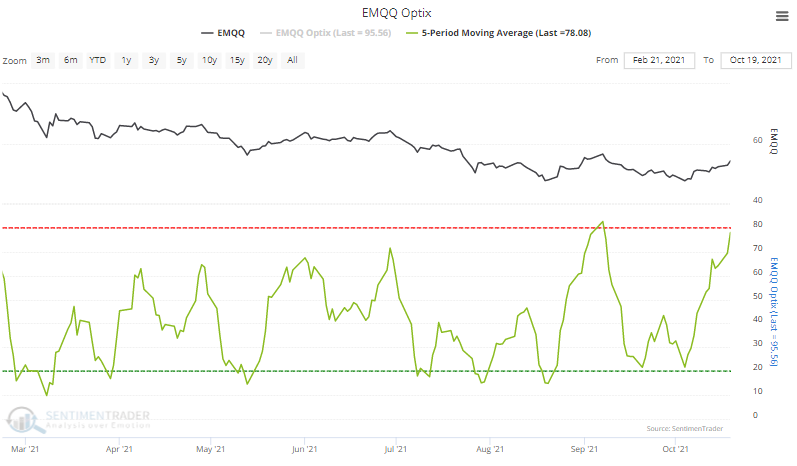 BDSM. That's shorthand for Bond Decline Sinks Morale, you cheeky buggers. Over the past 20 sessions, the Optimism Index on the BND fund has averaged less than 30%. This is only the 3rd time it's been so low, for so long, in the past five years.