Only one other year can truly compare to 2021
History shows that 1995 is 2021's twin

This year has been a lot like 1995. It has been more like that year than any other, at least in terms of performance. In August, we looked at some of the records being set this year during one of the most persistent and consistent rallies of all time. The one year that was consistent with pretty much all of the momentum studies we've looked at this year is 1995.
That year rallied strongly in September while this year stumbled. Otherwise, they followed each other closely, even including some December weakness.
If we go back to 1928 and look at the most highly-correlated years, there have been 18 others with a correlation greater than 0.85 (out of a scale from -1.0 to +1.0). Even with that expanded universe, 1995 still stood out as having the tightest relationship to 2021.
We're most concerned about what these high correlations might mean going forward. Based on those precedents, the answer is positive, at least in the couple of weeks heading into and immediately after the New Year. Over the next 2 weeks, the S&P rallied 15 out of 18 times.

Stat box



Traders have plowed an average of more than $135 million per day over the past 10 days into the XLV Health Care fund. That ranks as the 9th-highest 10-day inflow in the fund's history.
Biotech pessimism is reversing
We have been watching the biotech sector closely of late.
Jay considered the potential for using our Optimism Index (Optix) to play the long side using shares of the SPDR S&P Biotech ETF (XBI). The rule we will use is:
The 50-day average for XBI Optix crosses above 40% for the first time in a month
For this signal to occur, the 50-day average for XBI Optix needs to drop below 40%. This typically unfolds over time when XBI experiences a significant decline.
The signals generated by the rule above appear in the chart below, per our Backtest Engine. A new signal occurred after the close on Tuesday 12/21 (denoted by the red dot at the far right of the chart below).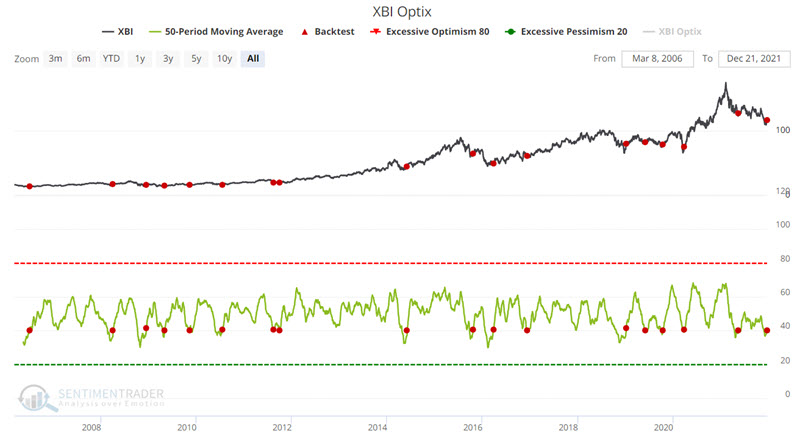 Following the other signals, over the next month, XBI rose 94% of the time, with a median return of +5.6%. Over the next year, it gained a median of 30.9%.
Jay also outlined a couple of ways a trader could take advantage of this setup.