Most Confident "Dumb Money" In A Decade

Maximum optimism
Dumb Money Confidence has been climbing steadily for a month, and stocks have so far shrugged off that extreme optimism. Now it has reached its highest level in a decade.

Every date that saw this high of a reading in the past 20 years sported a negative return in the S&P 500 at some point between the next 2-8 weeks.
This is also one of the handful of times since 1999 when Dumb Money was highly confident about a market rally two weeks into an earnings reporting month. All of them, too, saw losses in stocks over the short- to medium-term.
Semis erase massive loss
The semiconductor sector got a big boost on Tuesday, and of the indexes tracking the sector are at or on the cusp of fresh multi-year highs. That erases a nearly 30% drop from December.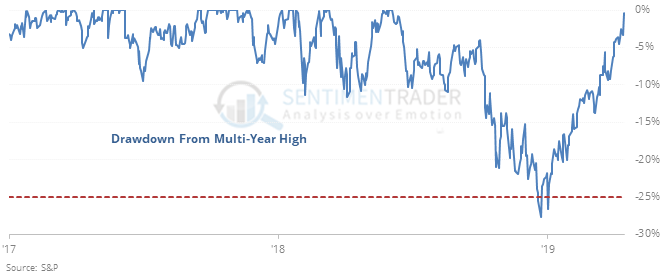 Since 1926, other times the semi sector quickly erased a massive loss, it was an okay sign, but broader indexes struggled to show any outsized gains. Semis were almost always higher a year later, but that didn't necessarily translate to the Nasdaq or S&P.
Chinese momentum
The McClellan Oscillator for the Shanghai Composite has dropped to -75 while the index is holding above its 50-day average. According to the Backtest Engine, this has only happened a few times, all leading to gains for the Shanghai.
Unhealthy selling
The Optimism Index for the XLV health care fund is the lowest of all sectors after those stocks took a beating on Tuesday. Over the past 19 years, the Backtest Engine shows a reading this low led to an average 3-month return of 5.2% for XLV, which rallied 81% of the time.
This post was an abridged version of our previous day's Daily Report. For full access, sign up for a 30-day free trial now.