Investors are hedging like it's a repeat of the pandemic
Hedging activity against a stock market decline is rising

A week ago, we saw that small options traders suddenly had a change of heart. In January 2021, they were buying a record number of call options, but the week before last, they were buying a record number of puts.
Their inclination to bet heavily on more downside subsided a bit last week as stocks rallied, but small trader put buying remains historically high.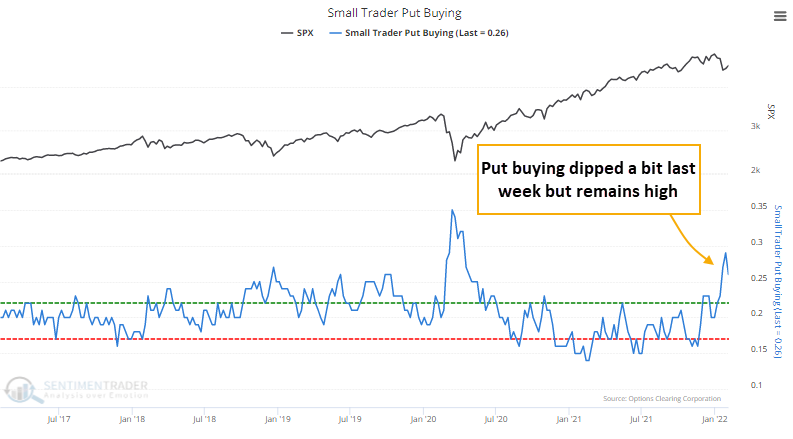 It's not just small traders who are heading, however. Among the largest traders, put buying was popular again last week. For 2 weeks in a row, they've spent 30% of their volume on puts, the highest percentage since the pandemic.
There are other ways to hedge. Traders can buy an inverse mutual fund that profits when stocks decline, ETFs that do the same, raise cash, or take other precautions. Most of those are also showing a rapid rise in hedging.

Stat box



The McClellan Summation Index for small-cap stocks fell below -1000 for only the 10th time in 22 years. After the other 9 signals, the IWM fund showed an average one-year return of +35% according to our Backtest Engine.
Declining sentiment on the dollar should help gold
Jay looked at the relationship between gold and sentiment toward the U.S. dollar.
The generally inverse relationship between the two is fairly obvious to the subjective eye. But objectively using this relationship to identify trading opportunities is a different topic.
The chart below displays the price action of gold versus its 200-day moving average in the top clip and 100-day moving average our U.S. dollar Optimsim Index in the lower clip. The red dots highlight those times when the U.S. Dollar Optix 100-day average crossed above 63 while gold was below its 200-day moving average. A new signal occurred at the end of January.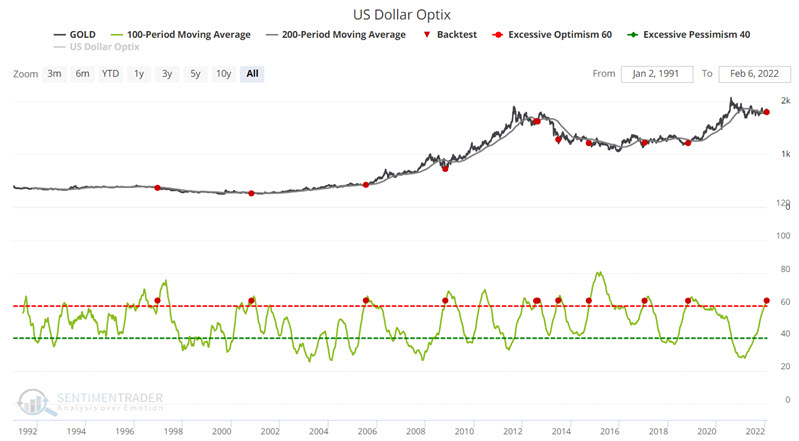 Returns in gold in the months ahead were consistently positive. Curiously, returns were significantly better than when gold was in an uptrend at the time of the signal.