Despite the big rally, it's hard to see who's buying
The latest survey of individual investors from the fine folks at the American Association of Individual Investors (AAII) showed a big drop in optimism. It's not just that one survey - several others are also showing tepid sentiment at best.
Our Backtest Engine shows that following any week when the Bull Ratio (Bulls / (Bulls + Bears)) was below 32%, forward returns in the S&P 500 were consistently positive.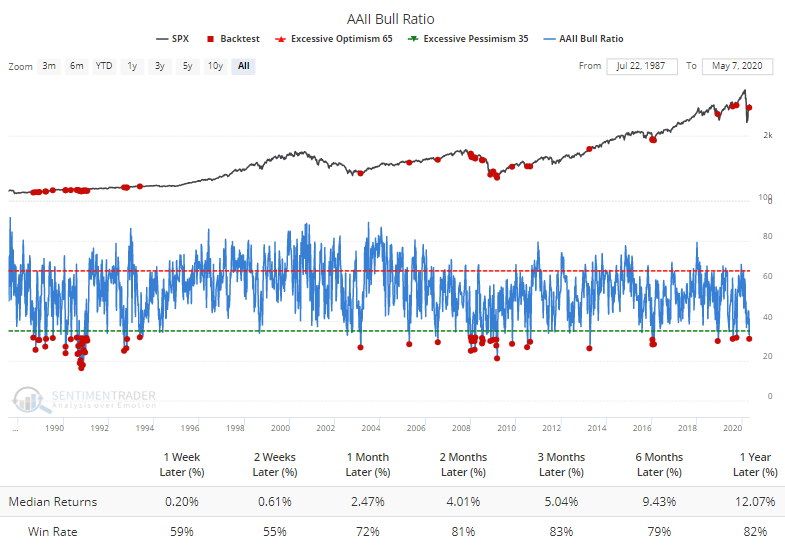 What's outstanding about the current week's reading is that it isn't coming after a big decline. Quite the opposite.
There has never been a period when optimism was so low after such a big rally. Out of the 54 times when the S&P 500 showed a gain of 10% or more over a 7-week period, not one of them (until this week) saw more than 50% of respondents consider themselves bearish.
The only times more than 40% of respondents were bearish were December 1990 and a few weeks from April - August 2009.
This is an abridged version of our recent reports and notes. For immediate access with no obligation, sign up for a 30-day free trial now.
We also looked at:
News sentiment is nearing the most pessimism in 35 years
Hedge funds don't seem to be levering up
Fund flows continue to be weak into equities
Rydex traders are still showing pessimism
Consumers' outlooks on stocks are still tepid
The VIX Term Structure hit a 50-day low even while most stocks are still below their 200-day moving averages
Optimism on XLK is extremely high
The Nasdaq keeps moving by +/- 1%, nearing the most such moves over a 2-month period
The Nasdaq/S&P 500 ratio is well above its 50-day average
Canadian stocks keep rising