Buyers Make Another Save with Breadth Thrust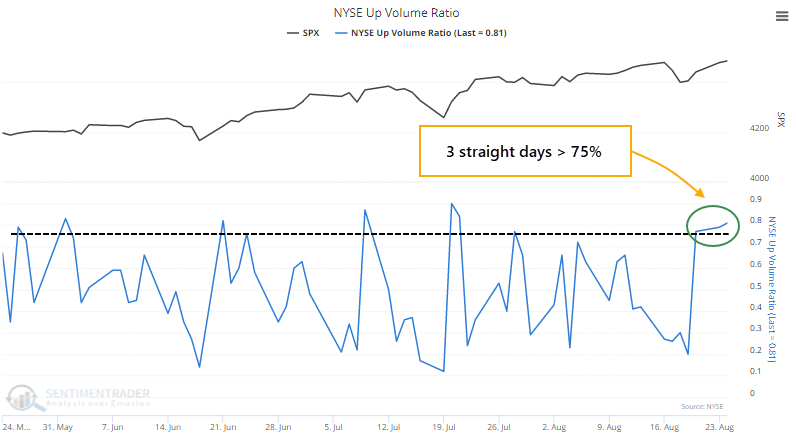 Just leave it to this market. Unbelievable.
Seemingly whenever something negative triggers, buyers show up immediately. We saw on Monday that the S&P 500's approach to its former high was accompanied by a negative McClellan Summation Index and more 52-week lows than highs on the NYSE.
No matter, stocks continued to rise, and breadth turned around. The switch was dramatic enough that more than 75% of volume on the NYSE flowed into advancing securities. It happened on Monday, too. And Friday.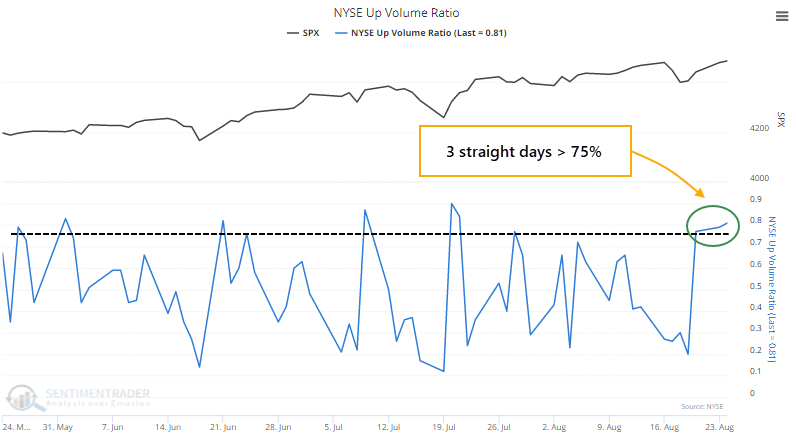 Over the past three years, this is only the 3rd distinct time that the 3-day average of NYSE Up Volume has neared 80% (lumping together the handful of post-pandemic thrusts as one).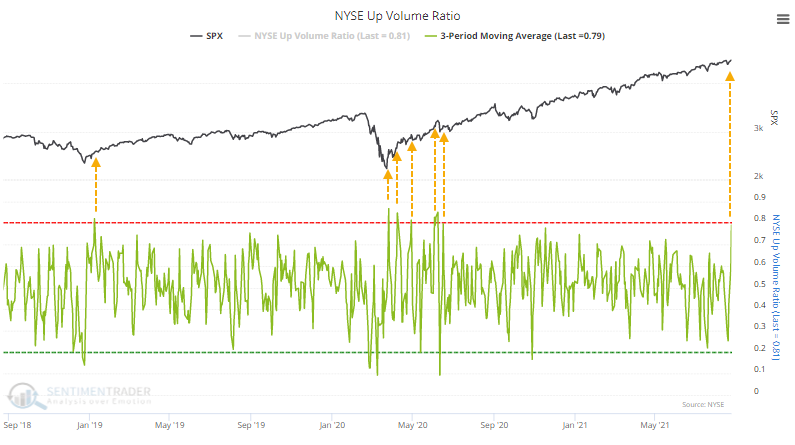 THRUSTS ARE ALMOST ALWAYS A GOOD SIGN
Since 1928, there have been 86 non-overlapping periods with 3 consecutive days of 75% or greater Up Volume. Like we've seen so often, the primary highlight of thrusts like this is a remarkably positive risk versus reward ratio over the medium- to long-term.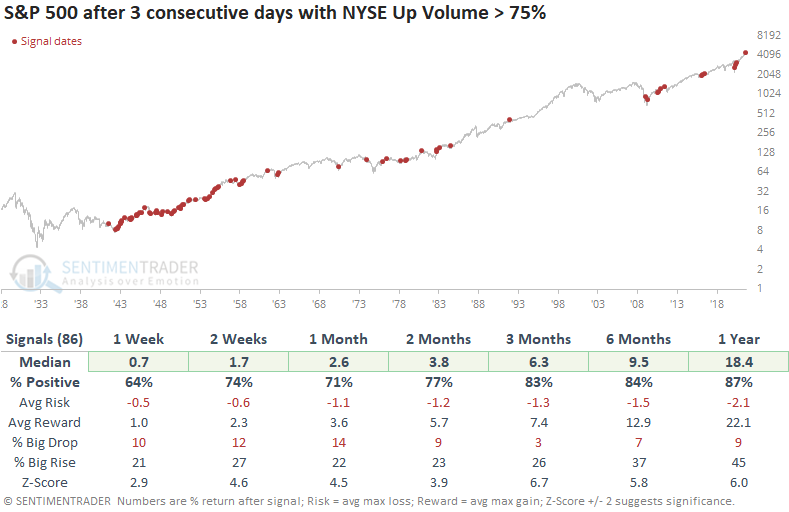 Across all time frames, the S&P 500's average return was well above random, the average drawdown (risk) was a small fraction of drawup (reward), and there was a much higher probability of a big rise than a big drop.
Often, we see thrusts like this when coming out of oversold conditions. The last time there were 3 consecutive days with at least 75% Up Volume with the S&P closing at a 52-week high was more than 30 years ago. While it can signal some short-term buying exhaustion (8 of the last 14 signals showed a negative 1-month return), the risk/reward ratio was impressive over the longer-term.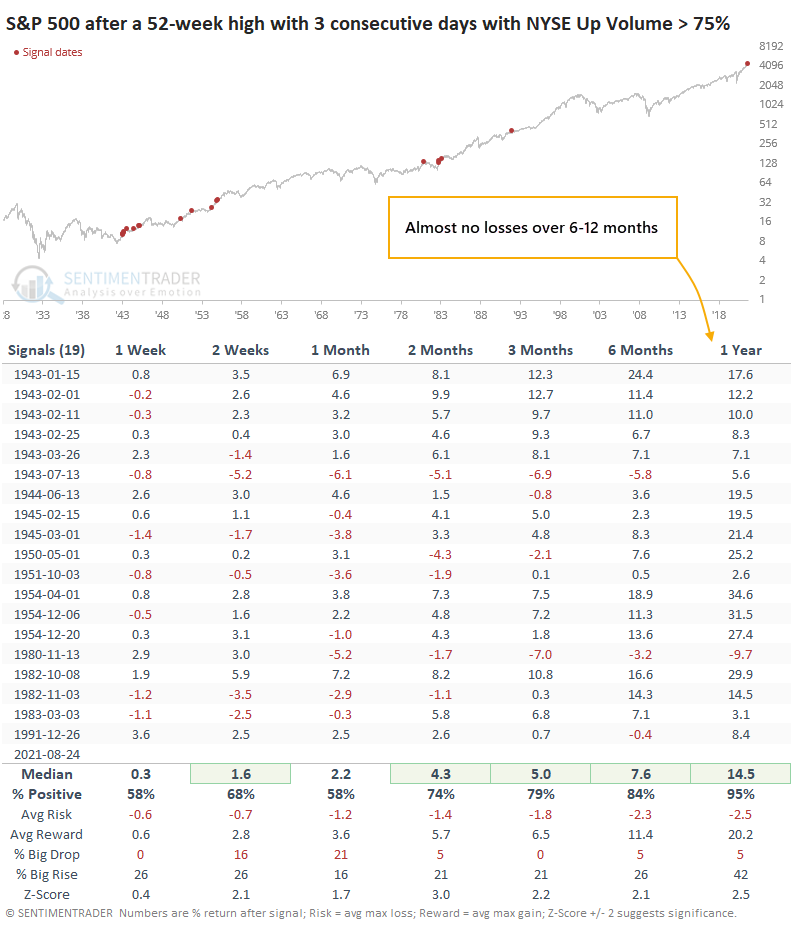 LOW RISK AND HIGH REWARD
One of the primary reasons to be constructive last March (and May and June) was the incessantly positive breadth thrusts that showed consistently positive forward returns.
The Risk/Reward Table of the signals shown in the table above shows just how skewed most of the signals tended to be. There were only two of them that showed consistently more downside than upside in the months ahead.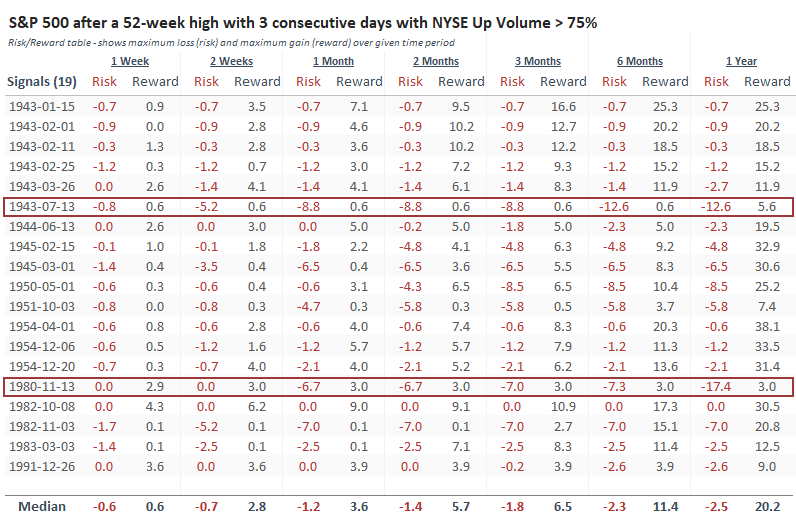 Once again, buyers have stepped in almost to the day following a dip in some breadth measures like the net percentage of NYSE issues at 52-week highs minus lows. That shows that there is still no change in the character of this market and its participants, and we might as well throw our hands up when trying to determine when any of the negatives might finally matter.