A major breadth reversal with a compelling record just triggered
An S&P 500 breadth reversal buy signal for stocks
A new signal from a voting member in Dean's TCTM Composite Thrust Model issued an alert at the close of trading on Wednesday. The component is called the percentage of members above the 10-day reversal model, which identifies when the number of members trading above the 10-day moving average cycles from oversold to overbought in a short period of time.
The number of S&P 500 members above the 10-day moving average increased from 5% to 89% in only 5 sessions. That's the quickest reversal since last October.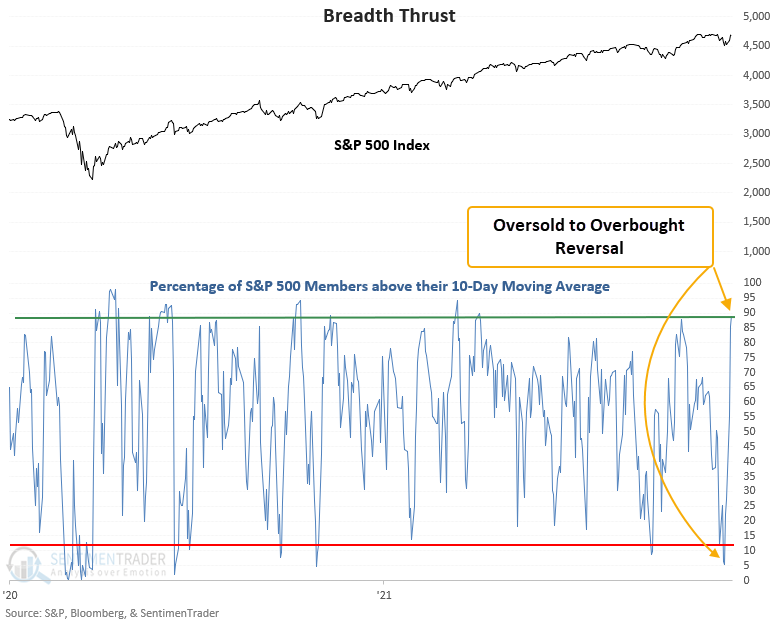 This signal triggered 52 other times over the past 93 years. After the others, future returns and win rates were solid across all time frames.

Stat box



Despite a down day in stocks on Thursday, traders plowed more than $4.45 billion into the SPY fund, apparently betting on a rebound in the S&P 500. That was the 5th-largest inflow for the fund in the past year.
Corn's Santa Claus rally
Jay looked at the annual seasonal trend for corn futures, which is presently entering a favorable seasonal period.
For this test, we will examine the performance of corn futures between an upcoming 14-day stretch. The chart below displays the cumulative hypothetical $ + (-) achieved by holding a long 1-lot position in corn futures ONLY during this period every year starting in 1960.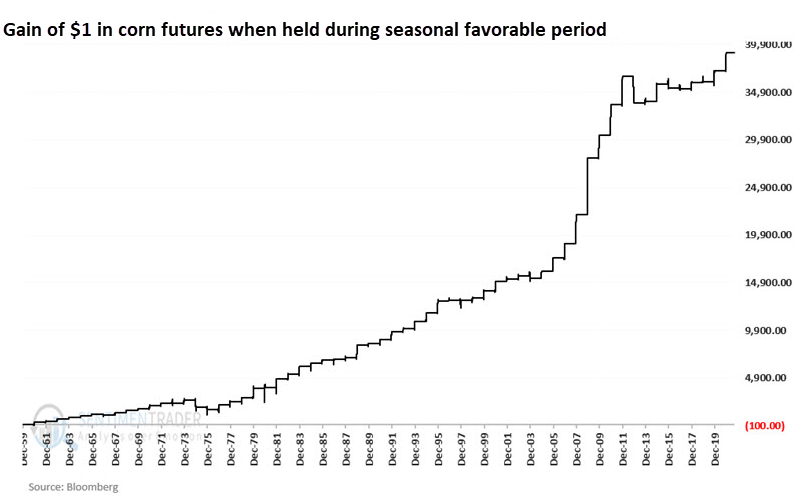 Over the past 61 years, 54 of them showed a gain during these roughly 3-week stretches with an average gain that was more than double the average loss.

South Korean stocks have been hit hard
South Korean stocks have been hammered since their summer peak. In U.S. dollar terms, the Kospi dropped more than 18% before a strong rebound in recent days. The combination of rising Covid cases and a tightening central bank hasn't gone over well.
Damage has been widespread, as we can see with the advance/decline figures. On an average day heading into December, 125 more stocks declined than advanced. Only the global financial crisis and the pandemic panic can match this.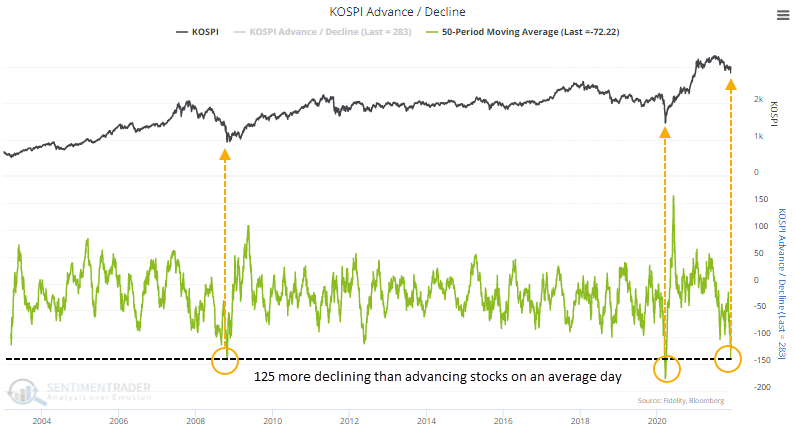 Other long-term breadth measures are showing a similar pattern. And there is evidence that U.S. based investors have fled the most popular fund that tracks these stocks.