A historic 3-day buying thrust is changing sentiment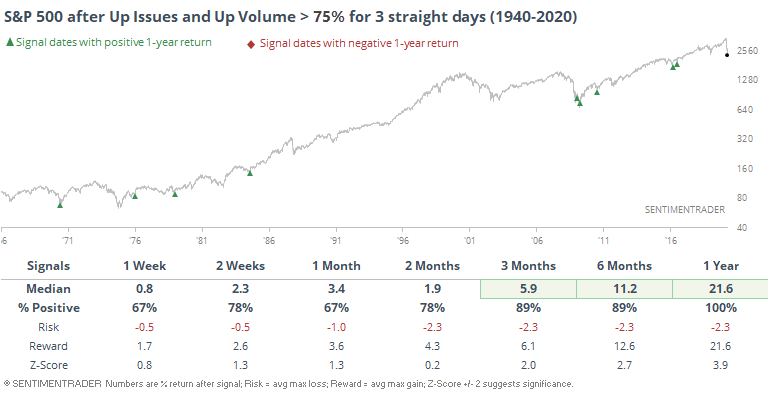 A historic 3-day thrust
So far in this recovery, the S&P has clawed back more than a third of its decline, which surpasses the other post-crash scenarios. And the buying power has been historic - potentially the best 3-day stretch since at least 1940. Each of the past three sessions has seen more than 80% of issues and volume skewed toward rising stocks. 
The only days that approached this were in 1984 and 2009, preceding the kick-off of massive bull markets (though it was early in 2009). If we relax the parameters to look for any 3-day stretch when the minimum Up Issues and Up Volume were at least 75%, then we get a few more signals.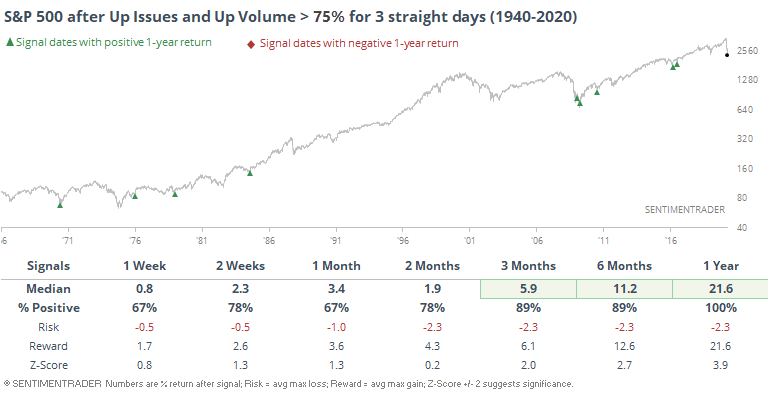 Buyers are doing what they need to do to change sentiment and increase the likelihood the worst has already been seen.
Sentiment is curling
Sentiment was extremely pessimistic over the past few weeks regardless of how you look at it. You would know this even without looking at any indicator: a 35% crash in just a few weeks is enough to make anyone panic.
And now that the stock market is rebounding, sentiment is starting to back off from extreme pessimism levels. Our proxy model of the CNN Fear & Greed Index is moving higher after spending a long time below 30.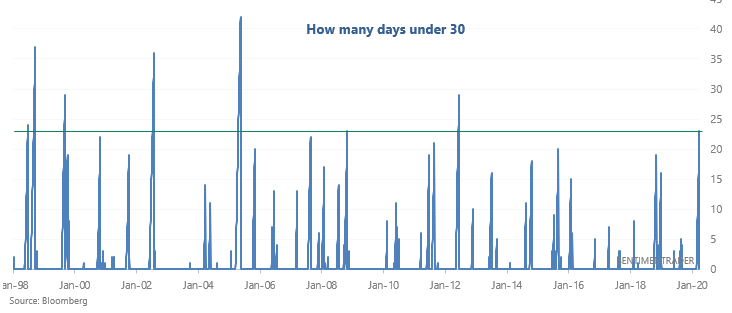 The S&P's forward returns over the next few weeks and months when this happened in the past were mixed. Sometimes the post-crash rally still had more room to run, but sometimes the rally was mostly over and the stock market continued to fall: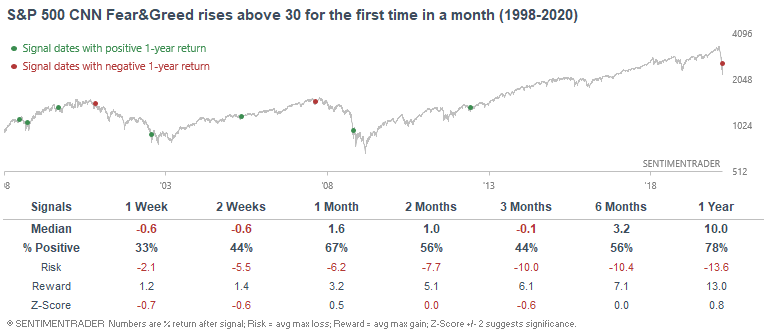 Most of the negative longer-term returns came when stocks were relatively close to their highs, unlike now.
This is an abridged version of our recent reports and notes. For immediate access with no obligation, sign up for a 30-day free trial now.
We also looked at:
The McClellan Oscillator and Summation Index are turning up
The Dow and S&P are surpassing other post-crash knee-jerk rebounds
Breadth over the past few sessions has been truly historic
Looking at other post-crash rebound patterns
Most stocks are now in short-term uptrends - what that means
An update on stocks throwing off MACD buy signals