5-Year High In Bull Markets Amid Deteriorating Fundamentals

5-year high in bull markets
More than 85% of stocks in the S&P 500 have managed to close above their 200-day moving averages, the most in five years. This ends the longest such streak in 30 years.

When stocks are coming out of a prolonged downtrend, this is an excellent buy signal. When it triggers with stocks at or near new highs, it's more of an exhaustion signal in the medium-term, but still a good sign long-term.
Deteriorating fundamentals
We saw last week that there is a 15-year high in stocks with negative earnings, both established companies and new issues. And many of those are also seeing deteriorating fundamentals, with operating earnings lower than four quarters ago.
This is true among all stocks traded on the NYSE, as well as individual indexes, like the big-cap tech-dominated Nasdaq 100.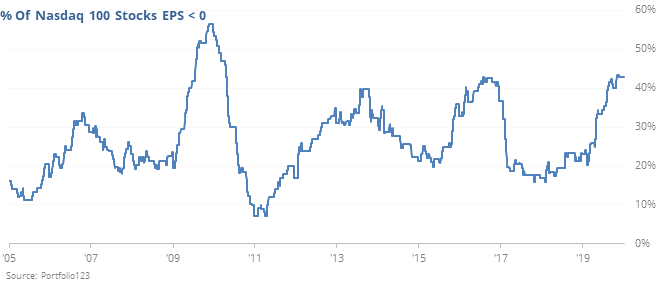 There isn't anything about this to suggest it's an imminent warning. It's another one of those "hmmm" developments that makes the overall environment seem riskier than buyers are acknowledging.
This is an abridged version of our recent reports and notes. For immediate access with no obligation, sign up for a 30-day free trial now.
We also looked at:
A lot of Nasdaq 100 stocks have hit 52-week highs, and also overbought conditions
Almost all Fidelity select portfolio managers are beating the return on cash