Available Indicators
Stop wasting time searching all over the web for stock market sentiment indicators.
The subscriber's section of SentimenTrader.com currently updates over 90 sentiment-related guides in an easy-to-view format. For a list of available indicators, see below.
For each indicator, we make available detailed background information, guidelines for use and interpretation, and historical examples. In addition, we provide a Backtesting Engine to allow users to backtest sentiment indicators against various Indexes and timeframes.
Every model and indicator has a fully interactive chart. These charts:
Allow you to zoom, pinch and scroll through history
Allow you to plot a moving average, external ETF or stock, another index or a related secondary stock market sentiment indicator
Allow you to print the chart or save as an image
Allow you to see related charts and background information
Allow you to invert the axis to better compare against price history
Allow you to save (or unsave) from your customized list of favorite charts
Here is an example of one of our charts using the VIX Term Structure: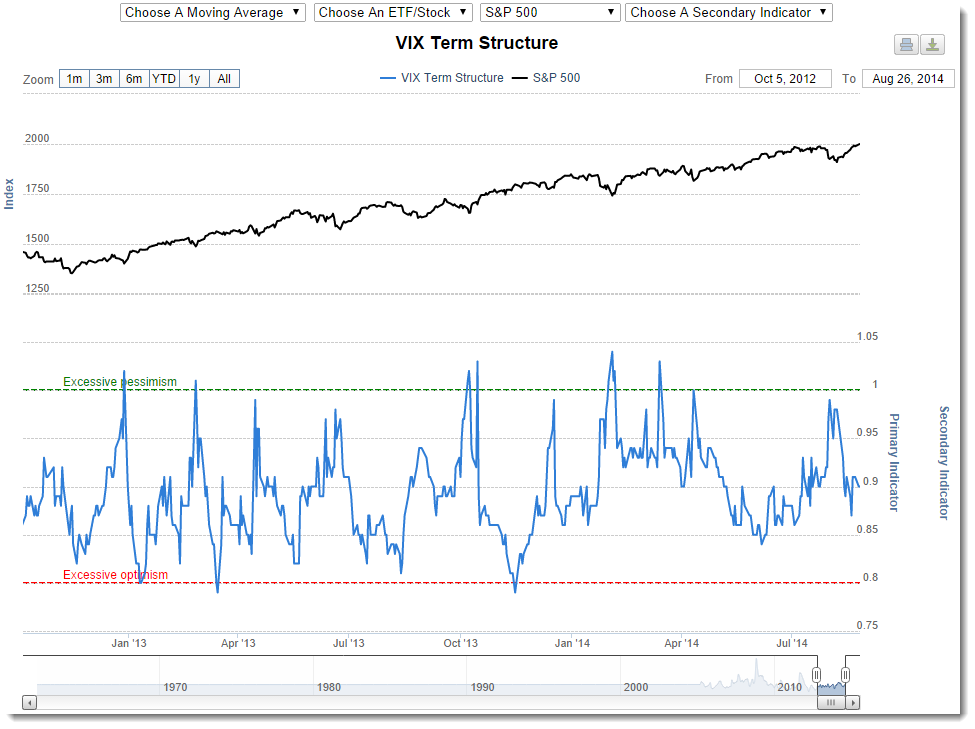 ---
Below is a snapshot of a part of our Complete List page for equities. There is also a page for bonds and one for commodities. The pages give the name and link to the indicator, what group it belongs to, its most appropriate time frame, closing value, change, date of the latest data, and a quick-glance icon that highlights any extremes in sentiment.
---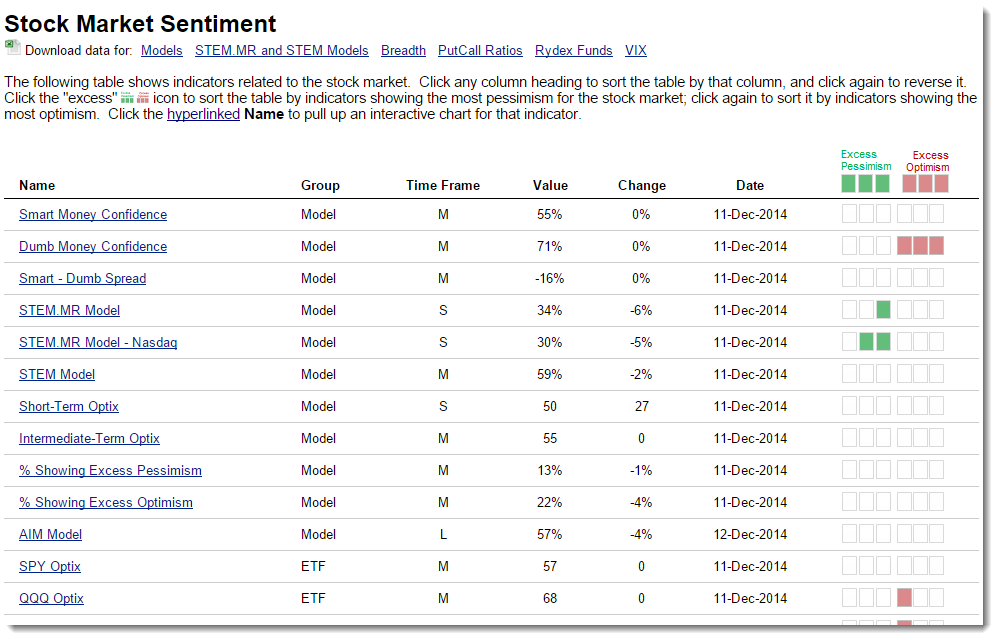 ---
Following is a partial list of the indicators available to subscribers. This list may change at any time, as we are continuously studying new ways of measuring investor sentiment.
Key:

Commodities indicators
VOLATILITY MEASURES
VIX
VIX TRANSFORM (transforms VIX deviations into a statistically meaningful chart)*
VXN
STOCK / BOND RATIO*
SMART MONEY INDEX
CREDIT DEFAULT SWAP INDEX
CSFB FEAR BAROMETER
VIX TERM STRUCTURE
* Proprietary indicators, likely not found anywhere else.
PUT/CALL RATIOS
R.O.B.O. PUT/CALL RATIO™ (a look at the smallest of traders - one of the most pure sentiment indicators available)*
L.O.B.O PUT/CALL RATIO*
OPTIONS SPECULATION INDEX*
TOTAL P/C RATIO
EQUITY P/C RATIO
ISE SENTIMENT INDEX
OEX DETERMINATION INDEX*
OEX P/C RATIO (WITH MOVING AVERAGES)
OPEN INTEREST RATIO
* Proprietary indicators, likely not found anywhere else.
BREADTH RATIOS
ADVANCE/DECLINE RATIO
NEW HIGH / NEW LOW RATIO
UP VOLUME RATIO
TRIN (NYSE AND NASDAQ)
CUMULATIVE TICK (NYSE AND NASDAQ)*
SPY AND QQQQ LIQUIDITY PREMIUM*
S&P AND NDX DOWN PRESSURE*
S&P AND NDX PRICE OSCILLATOR*
PERCENTAGE OF FIDELITY SELECT FUNDS BEATING CASH*
NOTE: We also present several breadth measurements for specific stock sector
* Proprietary indicators, likely not found anywhere else.
RYDEX MUTUAL FUND ASSET FLOWS
BULLISH FUND FLOWS*
BEARISH FUND FLOWS*
BETA CHASE INDEX*
RYDEX RATIO
MONEY MARKET LEVELS*
BULL VERSUS BEAR RSI SPREAD*
TOTAL BULL & BEAR ASSETS
TOTAL LEVERAGED BULL & BEAR ASSETS
... AND ALL SECTOR FUNDS
* Proprietary indicators, likely not found anywhere else.
SENTIMENT SURVEYS
AAII BULLISH
AAII BEARISH
AAII BULL RATIO MA
AAII ASSET ALLOCATION
WALL STREET STRATEGIST ASSET ALLOCATION
NAAIM SURVEY OF ACTIVE INVESTMENT MANAGERS
UNIVERSITY OF MICHIGAN CONSUMER CONFIDENCE
CONFERENCE BOARD CONSUMER CONFIDENCE
ABC NEWS CONSUMER COMFORT INDEX
N.F.I.B. SMALL BUSINESS OPTIMISM
PROPRIETARY OPTIMISM INDEX (OPTIX) SCORES FOR COMMODITIES*
COUNTRY SENTIMENT
DAILY OPTIMISM INDEXES (OPTIX) FOR:
AUSTRALIA (EWA)
BRAZIL (EWZ)
CANADA (EWC)
CHINA (FXI)
EMERGING MARKETS (EEM)
FRANCE (EWQ)
GERMANY (EWG)
INDIA (PIN)
ITALY (EWI)
JAPAN (EWJ)
MEXICO (EWW)
RUSSIA (RSX)
SPAIN (EWP)
UNITED KINGDOM (EWU)
* Proprietary indicators, likely not found anywhere else.
SENTIMENT SURVEYS
Bear / Bull Social Sentiment indicators for active ETF's
Bearish Percent Social Sentiment indicators for active ETF's
Bullish Percent Social Sentiment indicators for active ETF's
* Proprietary indicators, likely not found anywhere else.
COMMITMENTS OF TRADERS
ALL-INDEX, ALL-PRODUCT, DOLLAR-WEIGHTED STOCHASTIC*
COMMERCIAL TRADERS NET
SMALL SPECS NET
COMMERCIALS 1-YEAR STOCHASTIC*
SMALL SPEC 1-YEAR STOCHASTIC*
NOTE: WE PRESENT COT DATA FOR ALL MAJOR COMMODITIES
SHORT SALES ANALYSIS
ODD LOT PURCHASE PERCENTAGE
ODD LOT SHORT SALES
NYSE MODIFIED SHORT INTEREST RATIO*
NYSE DE-TRENDED SHORT INTEREST RATIO*
NASDAQ MODIFIED SHORT INTEREST RATIO*
CORPORATE INSIDERS
INSIDER BUY/ SELL SEASONALLY ADJUSTED
CASH LEVELS
MUTUAL FUND CASH LEVELS
MUTUAL FUND CASH PREMIUM* (Takes current level of interest rates into account)
RETAIL MONEY MARKET LEVELS
RETAIL MONEY MARKET AS A % OF MARKET CAPITALIZATION*
NYSE MARGIN
NYSE FREE CREDITS
NYSE AVAILABLE CASH*
NASDAQ MARGIN
NASDAQ FREE CREDITS
NASDAQ AVAILABLE CASH*
PENNY STOCK SPECULATIVE VOLUME
INITIAL PUBLIC OFFERINGS
SECONDARY PUBLIC OFFERINGS
MUTUAL FUND FLOWS
* Proprietary indicators, likely not found anywhere else.
---
Not ready to signup up for a free trial yet?
Signup for our Daily Lite email to receive highlights of our daily report, research and studies.
---
Follow us on Twitter:
Follow @sentimentrader
Subscribe to our Youtube Channel:

---

---
Brought to you by: