Warning: The Dollar's 'Pain 'Trade' is Higher
---
---
Following the Federal Open Market Committee's explanation of their thinking on the economy and interest rates, the U.S. dollar exploded to the upside. It followed through for a few days before pulling back this week.
Speculators have been short the dollar, suggesting that the pain trade is to the upside. A "pain trade" is a move that will seemingly hurt the most participants, usually when they've positioned too far in one direction or the other. This doesn't always work very well in the dollar or other trending currencies, but it seemed to have an impact over the past week.
Estimated Hedge Fund Exposure to the dollar is deeply negative. When it has been below 25%, the dollar's annualized return was +2.6%.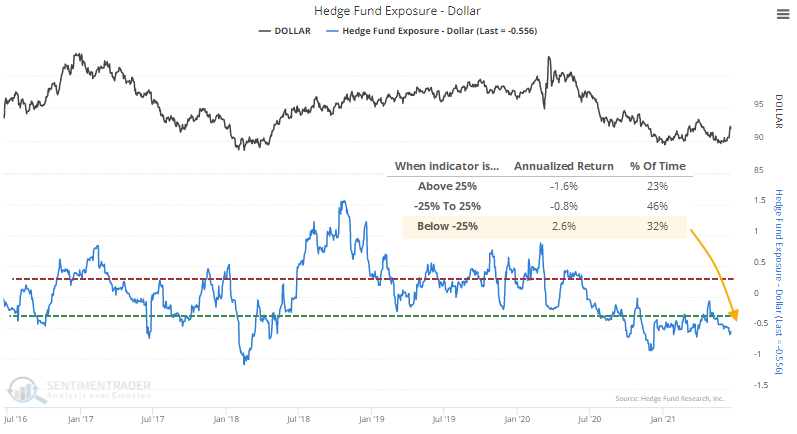 Let's assume that this pain trade will result in a similar setup to others over the past 15 years. We went back and looked at each time when FX Pain dropped deep into negative territory and the subsequent rallies in the dollar.
On average, the dollar rallied for 154 trading days, with a median gain of just over 10%.
What else we're looking at
Returns in the S&P 500, Nasdaq 100, gold, commodities, and emerging markets during "pain trade" dollar rallies
How sectors and factors performed during dollar rallies
Looking at 2 specific favorable and unfavorable summer seasonal windows in stocks
A new moving average trend count signal that just triggered for one specific industry

---
Stat box



More than $650 million flowed into the HYG high-yield bond fund on Wednesday, in the top 20 of all days in the fund's history. Our Backtest Engine shows inflows of that much or more in a single day preceded negative average returns up to a month out.
---
Etcetera
Dollar draught, mate. Aussie dollar seasonality is at a mid-way peak of the summer months before what has often been another rally into July, its ultimate peak for the summer. We don't take this too literally - it's only a guide to general tendencies over time.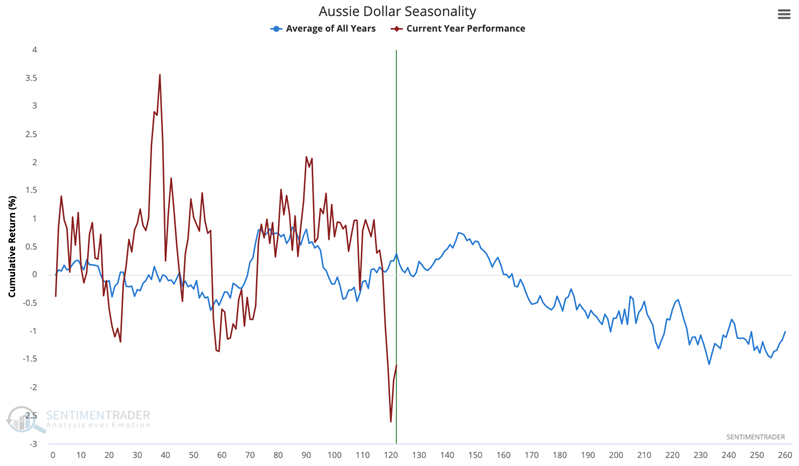 Slow climb. Total "smart money" commercial hedger positions in agriculture contracts have been holding below 125,000 contracts net short, below their previous all-time low in early 2016.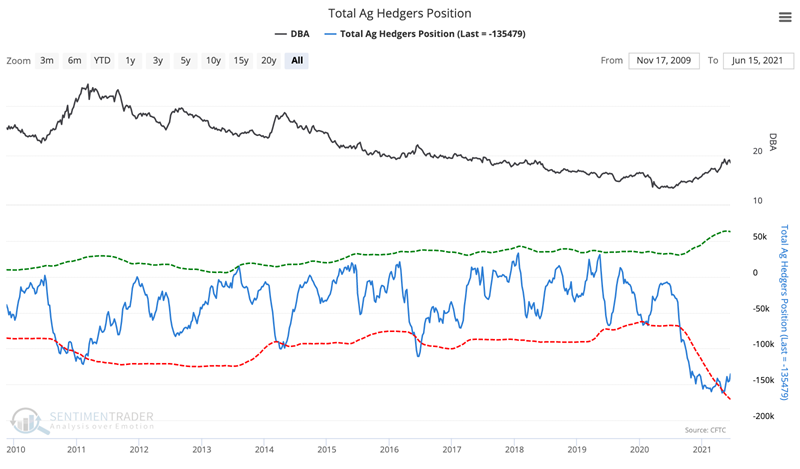 Financial flop. Corporate insider buys in the financial sector (XLF) are at an all-time low.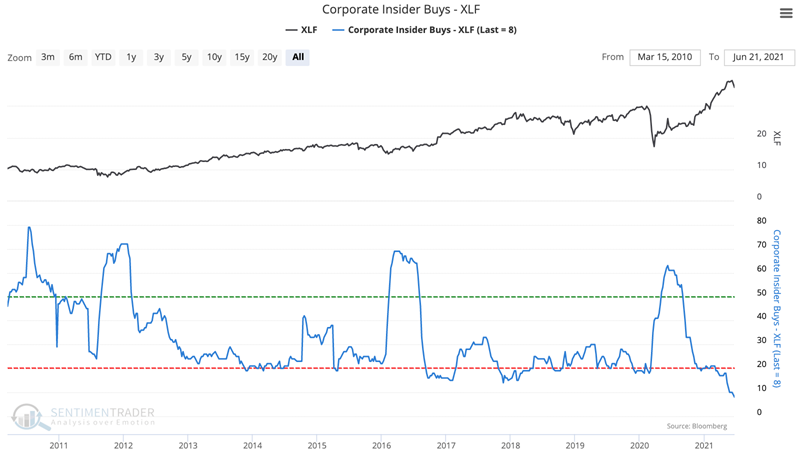 The post titled Warning: The Dollar's 'Pain 'Trade' is Higher was originally published as on SentimenTrader.com on 2021-06-24.
At SentimenTrader.com, our service is not focused on market timing per se, but rather risk management. That may be a distinction without a difference, but it's how we approach the markets. We study signs that suggest it is time to raise or lower market exposure as a function of risk relative to probable reward. It is all about risk-adjusted expectations given existing evidence. Learn more about our service , research, models and indicators.
Follow us on Twitter for up to the minute analysis of market action.
Follow @sentimentrader