This year is just like...1963?
---
---
Through the first 4 months of the year, stocks have barely suffered any downside volatility. This seems like 2013 or 2017, two other recent years that were marvelous for trend followers and miserable for pretty much every other strategy.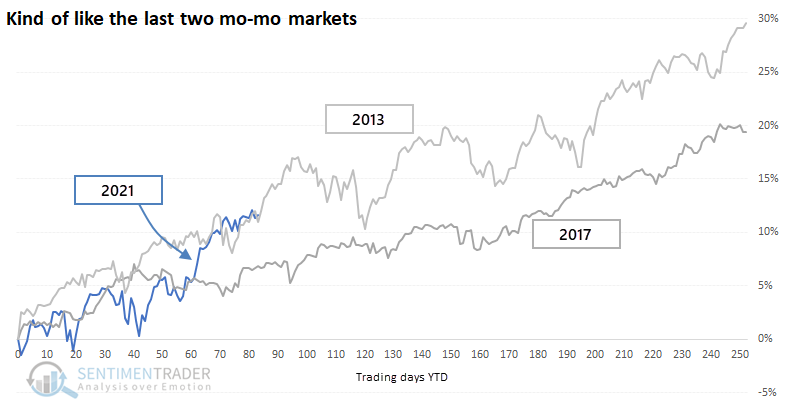 Buying momentum to start the year has rolled over just about every mean-reversion strategy in 2021, and it's tempting to pick a year that seems similar based on eyeballing a chart. We prefer to take a more objective approach using as much data as possible.
Using that discipline, we can go back nearly 100 years and look for every 4-month (84 trading-day) start to the year. We'll then filter the years, looking only at those that showed the highest correlation. There were 19 years with a correlation of more than +0.75 (on a scale of -1.0 to +1.0).
The 4 most recent years that made the cut are shown below.
Once the years got to about this point, they tended to plateau into the summer months before picking up again in the fall. The overall trend was still up and to the right.
Most of them tended to see some exhaustion about now, or if they did see a further push, gave it back in the month(s) ahead. There were only 2 real exceptions in the past 50 years.

Stat Box



Nearly

60%

of technology stocks fell to a 1-month low on Tuesday, despite major tech indexes being above their rising 200-day moving averages. According to our Backtest Engine over the past 20 years, this has happened 44 times, leading to a positive return a month later after 34 of them, as most didn't turn into larger declines.
What else we're looking at
What the average price path of the most-correlated years looks like
Detailed future returns after the most-correlated years through April
Another challenge is summer returns when optimism is high
Taking a look at the "April barometer"
An update on a high-yield and investment-grade bond timing model

Related Posts:
---
Tagged As:
The post titled This year is just like...1963? was originally published as on SentimenTrader.com on 2021-05-05.
At SentimenTrader.com, our service is not focused on market timing per se, but rather risk management. That may be a distinction without a difference, but it's how we approach the markets. We study signs that suggest it is time to raise or lower market exposure as a function of risk relative to probable reward. It is all about risk-adjusted expectations given existing evidence. Learn more about our service , research, models and indicators.
Follow us on Twitter for up to the minute analysis of market action.
Follow @sentimentrader