This is one of the most important markers of a healthy market
---
---
When it comes down to brass tacks, investing sounds simple. Buy stocks when investors are pessimistic during healthy market environments, and sell them when investors are optimistic during unhealthy ones.
Like most things, the difficulty comes in the implementation, where theory meets practice. The biggest challenge is defining pessimism and optimism and determining what is healthy and what is not.
One of the better ways to define the latter is by watching how many stocks and indexes can maintain longer-term trends. The default tends to be the 200-day moving average, which in all of our testing has served about as well as any other trend measure, with the added bonus of being simple.
Since February, most days have seen fewer than 60% of stocks in the S&P trading above their 200-day averages. It poked above that threshold a couple of weeks ago and then dropped right back below. That is not what typically happens during healthy markets. The same phenomenon can be seen among major industry groups and sectors.
Even worldwide, with most major global indexes now trading below their 200-day averages again.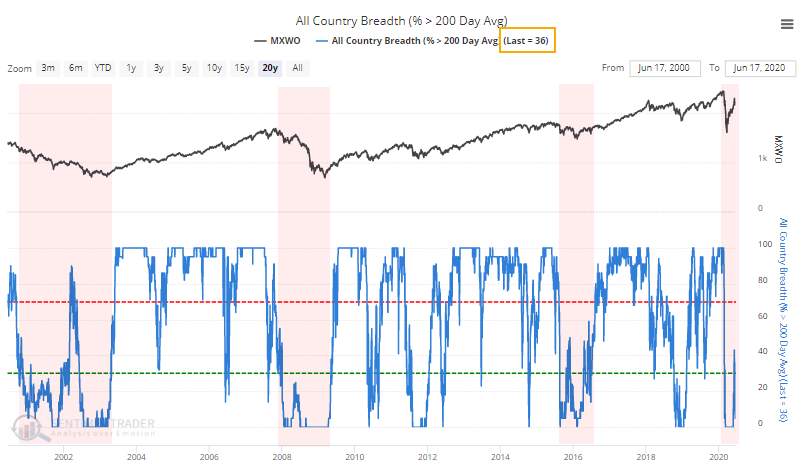 This isn't necessarily a death knell for the rally. Whenever we're in a period of extreme volatility, these figures can jump around some. They're not meant for day trading, they're meant to help us identify periods of long-term healthy and unhealthy markets, and we should watch how they behave over periods of weeks or even months.
This is an abridged version of our recent reports and notes. For immediate access with no obligation, sign up for a 30-day free trial now.
We also looked at:
Charts showing the % of stocks, industries, and sectors trading above their 200-day moving averages
What happens among sectors and factors during summers when a Democrat vs Republican wins the White House
The Conference Board's Leading Indicator metric has turned up from a low level
Earnings revisions are turning up, too
Gamma exposure shows risks from the options market
The put/call ratio shows extreme complacency at the moment

The post titled This is one of the most important markers of a healthy market was originally published as on SentimenTrader.com on 2020-06-19.
At SentimenTrader.com, our service is not focused on market timing per se, but rather risk management. That may be a distinction without a difference, but it's how we approach the markets. We study signs that suggest it is time to raise or lower market exposure as a function of risk relative to probable reward. It is all about risk-adjusted expectations given existing evidence. Learn more about our service , research, models and indicators.
Follow us on Twitter for up to the minute analysis of market action.
Follow @sentimentrader