This has happened only twice before among markets worldwide
---
---
Over the past few weeks, we've looked multiple times at the thrusts and recoveries not only in stocks and major indexes in the U.S., but also worldwide. It keeps going.
We've added a multitude of indicators in recent weeks to help monitor the health of industries, sectors, and worldwide markets, and they're starting to show meaningful changes in tone.
In March, every major world index we follow was in a bear market, and now fewer than 15% of them are. In recent decades, that only happened in 1988 and 2009.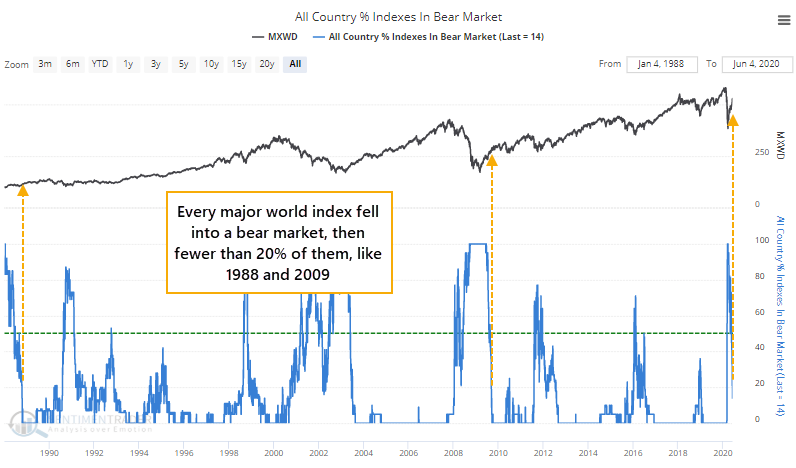 Overall, similar but less extreme recoveries preceded some choppy conditions for the MSCI World Index over the next couple of months, but they resolved higher over the next 6-12 months. All of them could be considered major recoveries.
This is an abridged version of our recent reports and notes. For immediate access with no obligation, sign up for a 30-day free trial now.
We also looked at:
Looking at returns following other recovery signals
U.S. sectors and industries are recovering, too
The equal-weighted version of the S&P 500 hit a 50-day high relative to the capitalization-weighted version
Economic surprises turned positive - what that means for stocks, bonds, the dollar, and gold

Related Posts:
---
Tagged As:
The post titled This has happened only twice before among markets worldwide was originally published as on SentimenTrader.com on 2020-06-08.
At SentimenTrader.com, our service is not focused on market timing per se, but rather risk management. That may be a distinction without a difference, but it's how we approach the markets. We study signs that suggest it is time to raise or lower market exposure as a function of risk relative to probable reward. It is all about risk-adjusted expectations given existing evidence. Learn more about our service , research, models and indicators.
Follow us on Twitter for up to the minute analysis of market action.
Follow @sentimentrader