Stocks Shrug Off Economic Reports Amid Buying Follow Through
---
---
This is an abridged version of our Daily Report.
Shrugging off disappointment
Economic reports haven't kept up with economists' outlooks, but it hasn't mattered as the S&P 500 has rallied to all-time highs. When stocks hit a 200-day high and economic surprises a 200-day low, future returns were good. They were even better when economic surprises were positive, though.
Once more, with feeling
After ending a long stretch without a 52-week high, the S&P followed-through on Monday with a large gain.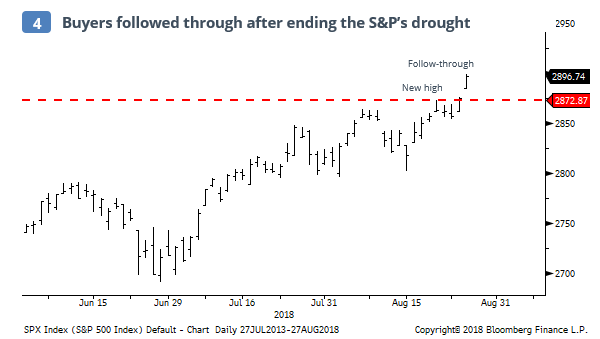 A day of follow-through improved future returns, especially when that follow-through day was larger than 0.75%.
Short covering
The Optimism Index on gold has moved above 30 after dropping below 20 in the past week. There have been five similar signals since 1991, leading to a positive return over the next three months four times, with one minor loss.
F
or access to the full report, indicators, charts, screens, and Backtest Engine, log in or sign up for a free 30-day trial today.
The post titled Stocks Shrug Off Economic Reports Amid Buying Follow Through was originally published as on SentimenTrader.com on 2018-08-28.
At SentimenTrader.com, our service is not focused on market timing per se, but rather risk management. That may be a distinction without a difference, but it's how we approach the markets. We study signs that suggest it is time to raise or lower market exposure as a function of risk relative to probable reward. It is all about risk-adjusted expectations given existing evidence. Learn more about our service , research, models and indicators.
Follow us on Twitter for up to the minute analysis of market action.
Follow @sentimentrader