Small Cap Stocks Haven't Done This Since 1933
Investors are having a tough time keeping a grasp on things. So are we, with some of the oddest, whippiest few stretches in market history.
Stock indexes have been levitating at record highs, but there is a lot of tumult under the surface. Even within solid indexes like the S&P 500, a near-record low number of stocks are managing to hang onto their medium-term trends.
Some of the rotation has been vicious. Among sectors and factors, none is more evident than between Small-Cap stocks and Growth. Over the past year, the correlation between those two factors has plunged to the lowest since 1933.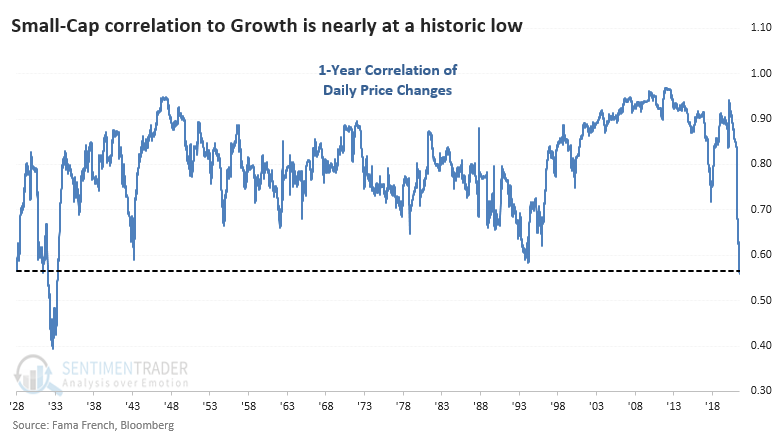 To a large extent, Growth = Technology, and we can see a similar plunge in that correlation. The rolling 1-year correlation between Small-Caps and Technology has just nosedived and is nearing its prior recent low from the end of 2017. 
Looking at Small-Caps' correlation to major sectors and factors, Growth and Technology rank at the bottom of the list, both in the bottom 10% of their all-time ranges. 
As for what it means for future returns, for the broader market, the answer was, "not much," but it did precede a consistent tendency for Small-Caps to do better than Technology over longer time frames.

---
What else we're looking at
Full returns in the S&P 500 following a plunge in Small-Cap correlation to Technology
What low correlations meant for future returns in Small-Caps, Tech, and the ratio between them
Among ETFs, the good, bad, and ugly in upcoming seasonal trends
Cyclical groups aren't confirming the S&P 500's recent highs - what to look for now
---
Stat box



While Small-Caps' correlation to Growth and Tech are plunging, they still have a +0.8 correlation to the Value factor (out of a scale from -1.0 to +1.0). That's their highest correlation to any sector or factor.
---
Etcetera
Big funds. In June, real estate ETFs absorbed their largest inflows in history, eclipsing the prior record from the fall of 2016.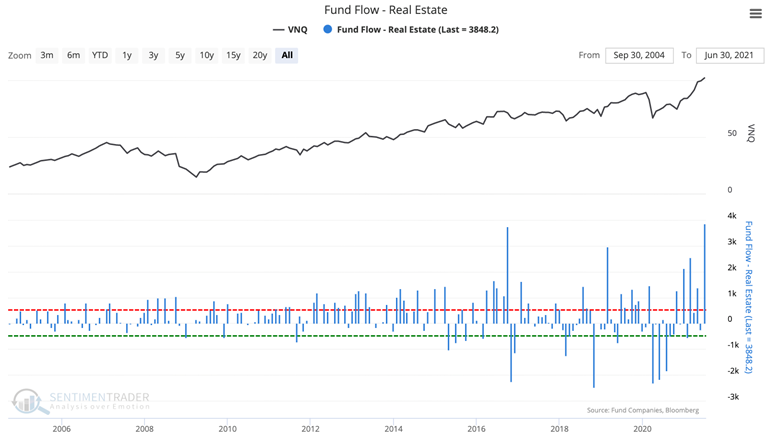 Put it here. There are now nearly 200 put option contracts outstanding for every 100 call options on the Dow Industrials ETF, DIA. That's the most in almost 7 years.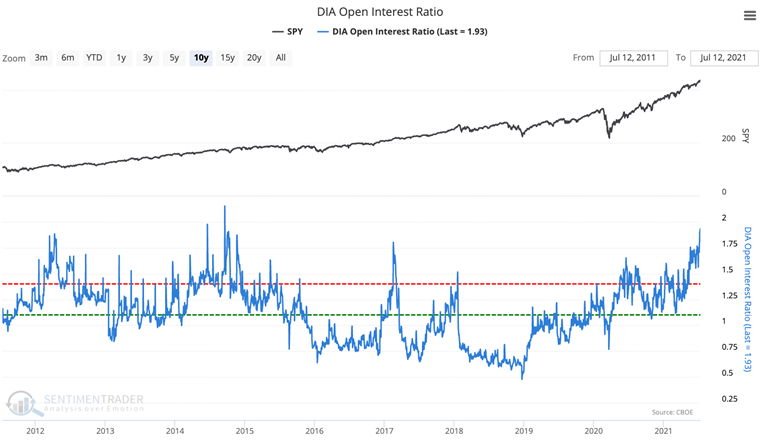 All that glitters. Average Gold Seasonality suggests that the yellow metal should rally from late summer into fall, but gold hasn't followed its typical seasonal fluctuations very closely in 2021.