Options Traders Are Leveraged After A Good Year-End
---
---
Starts after a great year
The most widely bench-marked indexes in the world closed last year at or near record highs. When that has happened, almost always stocks see choppy trading during the first couple of months of a new year before taking off again.
Looking at an aggregate of 9 historical instances when the S&P 500 hit a record high in the last week of the year, the first 1-2 months of the New Year tended to see choppy or negative returns, including the last four times it happened.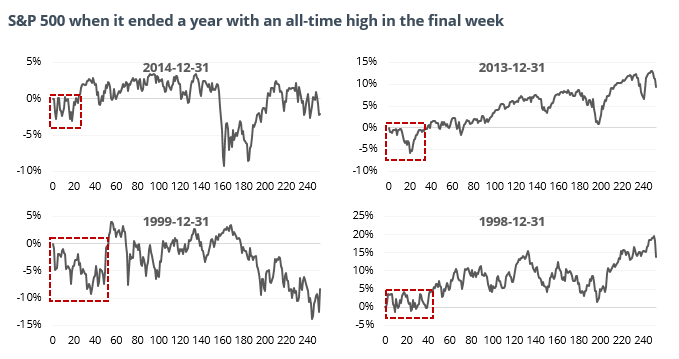 Leveraged and aggressive
The greatest risk to stocks according to the various ways we look at it is not yet in the longer-term, but rather the short- to medium-term. Many of the indicators that we track are most effective over a 1-3 month time frame, and as noted last week, they are extremely stretched.
Among the most egregious of the extremes are indicators that focus on leveraged products, such as options. The Options Speculation Index (OSI) shows that traders are focusing 30% more on bullish options strategies than bearish ones.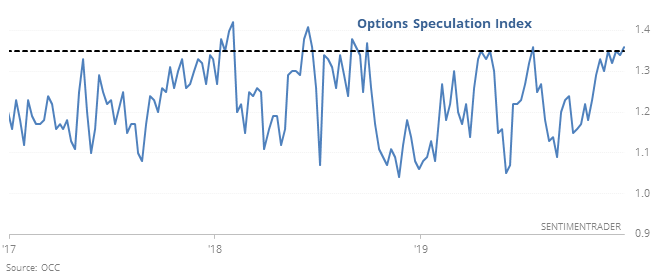 The OSI was persistently (and meaningfully) above 1.30 during many weeks in the year 2000. After that bubble burst, options traders didn't gather this kind of courage for another 10 years, with the next reading not showing up until 2010. Since then, it has triggered a handful of times, leading to negative returns over the short- to medium-term for stocks.
U.S. Dollar
2019 saw extremely low volatility in forex markets, and perhaps that is coming to an end. The U.S. Dollar is starting to trend downwards, and the Bloomberg U.S. Dollar Index recently broke down to a 9 month low.
Such breakdowns in the past were usually followed by new lows over the next month for the Bloomberg Dollar Index (the sample size is small, which is a caveat).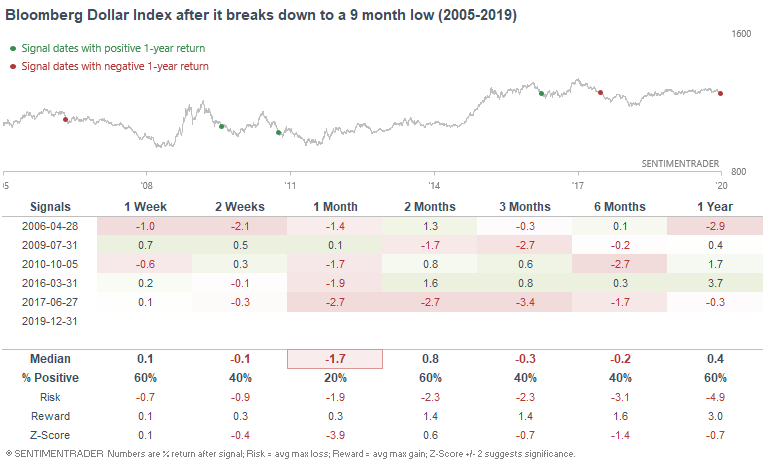 This is an abridged version of our recent reports and notes. For immediate access with no obligation, sign up for a 30-day free trial now.
We also looked at:
What happens after futures gap up and Dumb Money Confidence is already high
The Nasdaq new high - new low ratio is the highest in 6 months
The same breadth stat for the NYSE is high, too
Financial conditions have greatly improved over the past year, what that means for stocks
The dollar's breakdown effect on the S&P 500
Copper just enjoyed a Golden Cross with the 50-day average crossing above the 200-day

Related Posts:
---
Tagged As:
The post titled Options Traders Are Leveraged After A Good Year-End was originally published as on SentimenTrader.com on 2020-01-03.
At SentimenTrader.com, our service is not focused on market timing per se, but rather risk management. That may be a distinction without a difference, but it's how we approach the markets. We study signs that suggest it is time to raise or lower market exposure as a function of risk relative to probable reward. It is all about risk-adjusted expectations given existing evidence. Learn more about our service , research, models and indicators.
Follow us on Twitter for up to the minute analysis of market action.
Follow @sentimentrader