Mystery Buyers As Breadth Momentum Hits Epic Proportions
---
---
Mystery buyer
There are many remarkable aspects to the rally over the past two months, including who's buying. Large speculators in index futures continue to sell. So do small speculators.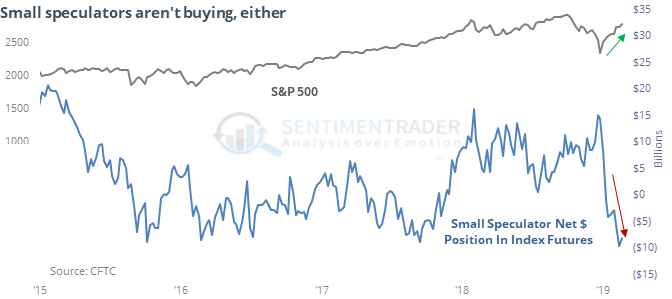 Hedge funds don't seem to be buying. And neither do mutual fund or ETF investors. All of these are a change from typical behavior. The knee-jerk contrarian conclusion would be that this is bullish as stock climb the "wall of worry." That's a false positive, since bull markets need investors to become more positive, not less.
A record sum
The McClellan Summation Index for several sectors and major indexes are at or near 20-year highs.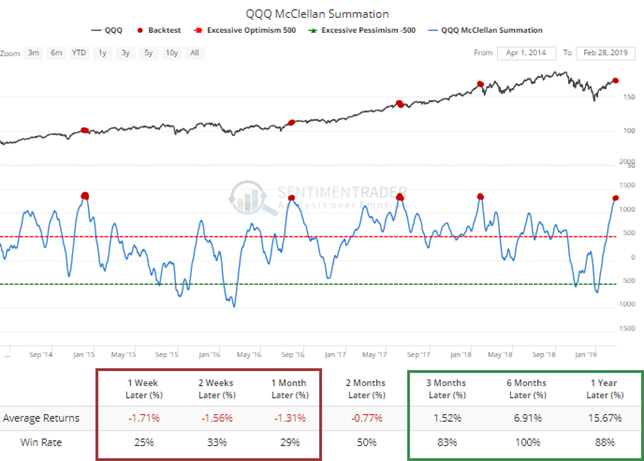 For the S&P 500, Nasdaq 100, and Russell 2000, readings as high as they are now have triggered mostly negative returns over the next 1-4 weeks.
The latest Commitments of Traders report was released, covering positions through February 19
Hedgers were still holding a near-record position in Nasdaq futures. They sold gold heavily, but have a ways to go before hitting an extreme, since coming off a rare net long position last fall. The 3-Year Min/Max Screen isn't showing any notable new extremes.
Big loss
The GLD gold fund suffered its worst loss in more than a year, while still holding above its 200-day average. Over the fund's history, a loss like this led to a rebound over the next 4 sessions only 31% of the time (4 out of 13 attempts).
This post was an abridged version of our previous day's Daily Report. For full access, sign up for a 30-day free trial now.

The post titled Mystery Buyers As Breadth Momentum Hits Epic Proportions was originally published as on SentimenTrader.com on 2019-03-04.
At SentimenTrader.com, our service is not focused on market timing per se, but rather risk management. That may be a distinction without a difference, but it's how we approach the markets. We study signs that suggest it is time to raise or lower market exposure as a function of risk relative to probable reward. It is all about risk-adjusted expectations given existing evidence. Learn more about our service , research, models and indicators.
Follow us on Twitter for up to the minute analysis of market action.
Follow @sentimentrader