Mid And Small Cap Stocks Diverge At Highs As Emerging Market Volatility Soars
---
---
This is an abridged version of our Daily Report.
About those new highs
Mid and Small Cap indexes are hitting new 52-week highs, leading the Large Cap S&P 500 index as we saw on Tuesday. But fewer of those mid- and small-cap stocks in the indexes are also reaching 52-week highs.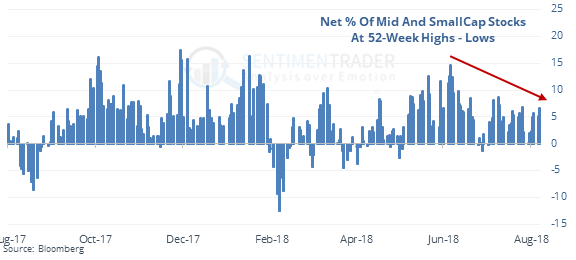 Similar divergences led to weak 1-3 months returns, but strong 6-month ones.
Volatility strikes emerging currencies
Volatility on emerging market currencies is at a multi-year high relative to G7 currencies. That has led to periods of outperformance of emerging stocks relative to the worldv.
Getting extreme
Our proxy for the CNN Fear Greed model has climbed above 80. According to the Backtest Engine, that has led to a negative average next-day return that amounts to an annualized -4.9%. If it gets above 85, that drops to an annualized -11.8% and above 90, it declines to a putrid -36.5%.
Still leaving
According to the Investment Company Institute, investors pulled more than $3 billion from equity mutual funds and ETFs at the end of July.
F
or access to the full report, indicators, charts, screens, and Backtest Engine, log in or sign up for a free 30-day trial today.
Related Posts:
---
Tagged As:
The post titled Mid And Small Cap Stocks Diverge At Highs As Emerging Market Volatility Soars was originally published as on SentimenTrader.com on 2018-08-09.
At SentimenTrader.com, our service is not focused on market timing per se, but rather risk management. That may be a distinction without a difference, but it's how we approach the markets. We study signs that suggest it is time to raise or lower market exposure as a function of risk relative to probable reward. It is all about risk-adjusted expectations given existing evidence. Learn more about our service , research, models and indicators.
Follow us on Twitter for up to the minute analysis of market action.
Follow @sentimentrader