Investors' cash cushion is near the lowest in 30 years
---
---
This is an abridged version of our recent reports and notes. For immediate access with no obligation, sign up for a 30-day free trial now.
No cash cushion
In September, individual investors reduced their cash position to one of the lowest levels in 30 years. They're not alone. Other groups of investors are also carrying a very low amount of cash relative to other assets.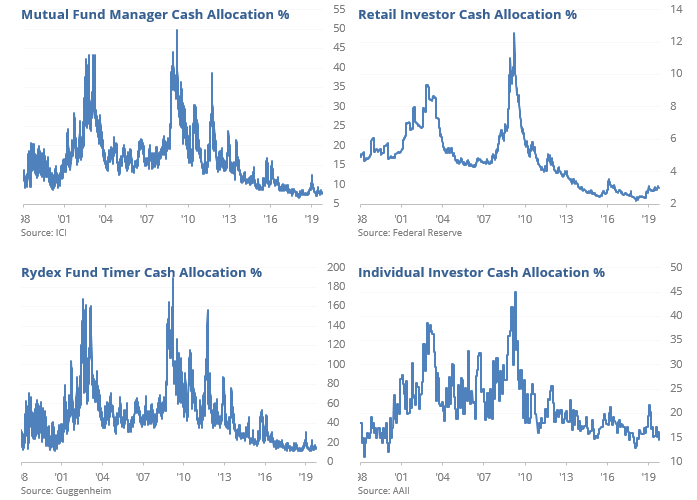 When we aggregate the cash position of these various investor groups, we can see that the average is at one of the lowest points in 30 years.
While it wasn't a perfect timing device, a very low average cash balance did serve as a good warning about the danger of holding stocks before several protracted declines. It makes sense – if investors aren't holding much cash, then if stocks retreat, they may have to sell some of their stocks to generate liquidity, snowballing the decline.
The trouble with using this as anything more than a general environmental kind of worry is that cash balances have been low for most of the past several years, with no real negative lasting impact on stock prices (yet, anyway).



Get hard
Hard economic data have shown much more positive surprises than soft data (i.e. surveys).
The general thinking is that when soft data significantly underperforms hard data, people are too pessimistic towards the economy. What does the data suggest? The following table looks at every case in which the Soft - Hard data spread fell below -0.95: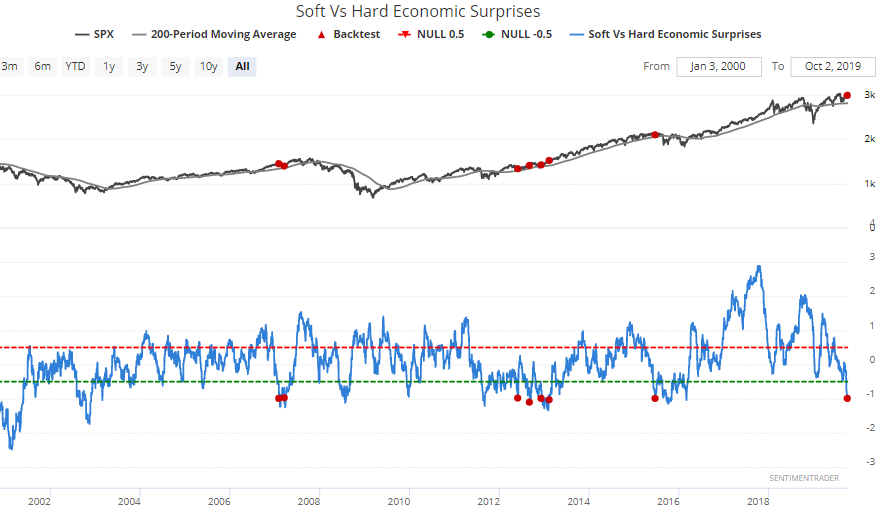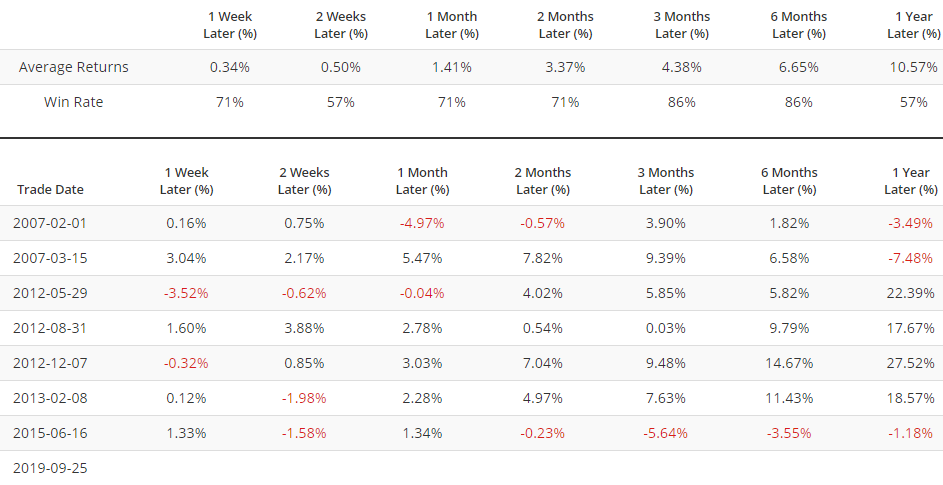 When it happens to this degree during long-term uptrends, stocks have a strong tendency to gain over the next 3-6 months.

Related Posts:
---
Tagged As:
The post titled Investors' cash cushion is near the lowest in 30 years was originally published as on SentimenTrader.com on 2019-10-03.
At SentimenTrader.com, our service is not focused on market timing per se, but rather risk management. That may be a distinction without a difference, but it's how we approach the markets. We study signs that suggest it is time to raise or lower market exposure as a function of risk relative to probable reward. It is all about risk-adjusted expectations given existing evidence. Learn more about our service , research, models and indicators.
Follow us on Twitter for up to the minute analysis of market action.
Follow @sentimentrader