Corporate insiders like S&P 500 stocks a lot more than Nasdaq 100 ones
---
---
As stocks climbed incessantly higher to start the year, corporate insiders became hesitant. Among S&P 500 companies, there was a multi-year low in the number of insiders buying their firm's shares on the open market.
The pandemic changed all that. As other investors panicked, insiders picked up shares on the cheap. They're still going. The number of insiders that have bought shares in S&P 500 companies within the past six months has soared to a decade high.
They're maybe not seeing quite the same values in big tech stocks. Insider buying among Nasdaq 100 companies has been tepid.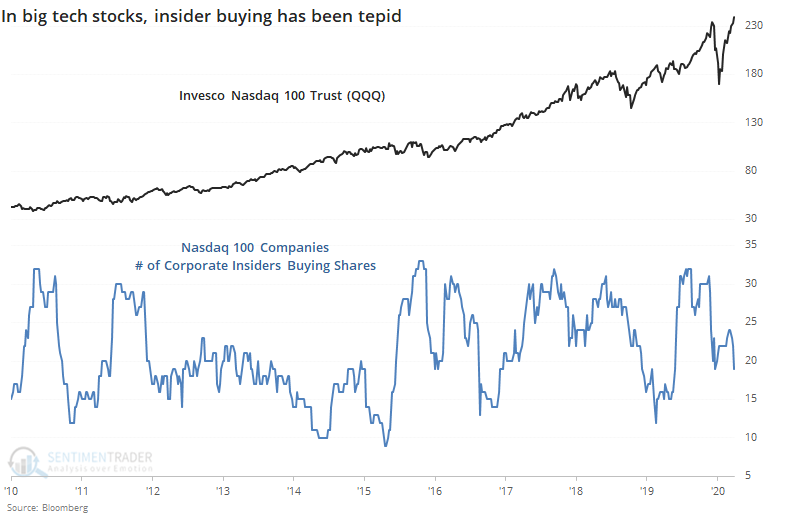 Insider buying in S&P 500 stocks is now the highest since at least 2010 relative to buying in Nasdaq 100 stocks.
Other times when insiders in S&P stocks were much more aggressive buyers than insiders of Nasdaq 100 stocks, the ratio between SPY and QQQ showed a modest tendency to rebound in the months ahead.
This is an abridged version of our recent reports and notes. For immediate access with no obligation, sign up for a 30-day free trial now.
We also looked at:
The Nasdaq traded above its 20-day average for 46 straight days
So did the Nasdaq 100
What happens when the Nasdaq has a long streak above its 20-day, but the S&P 500 does not
Insider buying in S&P 500 stocks has been impressive over the past 6 months
There has been a jump in stocks with MACD sell signals
Only 2% of S&P 500 stocks are above their 10-day moving averages
Almost every security dropped, and almost all volume flowed into those issues on Thursday

The post titled Corporate insiders like S&P 500 stocks a lot more than Nasdaq 100 ones was originally published as on SentimenTrader.com on 2020-06-12.
At SentimenTrader.com, our service is not focused on market timing per se, but rather risk management. That may be a distinction without a difference, but it's how we approach the markets. We study signs that suggest it is time to raise or lower market exposure as a function of risk relative to probable reward. It is all about risk-adjusted expectations given existing evidence. Learn more about our service , research, models and indicators.
Follow us on Twitter for up to the minute analysis of market action.
Follow @sentimentrader