Bond Losses Trigger Pessimism
---
---
This is an abridged version of our Daily Report.
Bond losses trigger pessimism
Government bonds have suffered consistent losses for a record amount of time. Treasuries haven't scored a new high in more than two years, the longest stretch in 45 years. That has caused investors to flee bond funds.
Options traders are negative, too
Options traders in the TLT bond fund are starting to panic. The put/call ratio on that fund is the 2nd-highest in a decade, and skew is widening out to the most extreme in five years.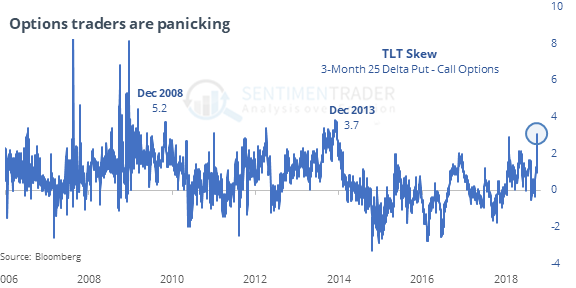 So are speculators
Speculators in long-term note and bond futures are holding a near-record amount of open interest net short. At the same time, hedge fund returns are showing a large negative correlation to bond prices, suggesting they are heavily net short.
Intermarket
On Friday, we looked at quick jumps to a high in bonds. We've been asked about stocks' performance following the same signals. For the S&P 500, it led to mixed returns in the shorter-term, with win rates just above 50%.

The post titled Bond Losses Trigger Pessimism was originally published as on SentimenTrader.com on 2018-10-09.
At SentimenTrader.com, our service is not focused on market timing per se, but rather risk management. That may be a distinction without a difference, but it's how we approach the markets. We study signs that suggest it is time to raise or lower market exposure as a function of risk relative to probable reward. It is all about risk-adjusted expectations given existing evidence. Learn more about our service , research, models and indicators.
Follow us on Twitter for up to the minute analysis of market action.
Follow @sentimentrader