Best-Ever Retracement; VIX Is Awfully Low
---
---
This is an abridged version of our Daily Report.
Best-ever retracement
Two weeks into a recovery from a major decline, the S&P 500 has made back more than 40% of its losses. If we go back to 1928 and look at every time the S&P declined more than 15% from a multi-year high within a year's time, then rallied for at least two weeks, we can compare how much of the decline each of them retraced. Out of 29 such attempts, the one we're seeing right now comes out on top.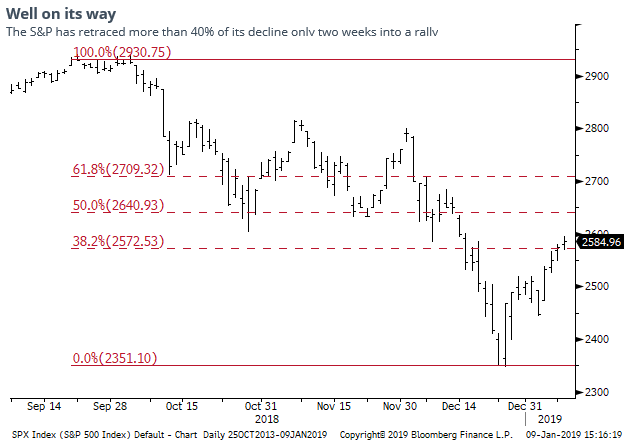 Other quick, large retracements led to much better longer-term returns than those rally attempts that were weaker and retraced less of the decline initially. In the next six months following the strongest retracements, the S&P 500 averaged a return of +10.0%. After the weakest, it averaged a lowly -5.4%.
Sigh of relief
The VIX "fear gauge" has dropped dramatically as options traders price in a much reduced level of volatility going forward. But the S&P 500's actual volatility remains high.

The spread between the two is now among the widest since 1990, and other times it got this wide, stocks mostly struggled going forward.
Four in a row
The S&P 500 fund, SPY, has rallied four days in a row while below its 200-day average, with today's gain being the smallest of the four. That has led to more gains over the next three days only 3 out of 11 times, averaging -1.3%.
Wow
This is just further confirmation from other thrusts we've shown in the past few days, but the 10-day average of Up Volume has now reached 70%. According to the Backtest Engine, there have been 46 days since 1962 when it was this high. A year later, the S&P 500 was higher 43 times.



Related Posts:
---
Tagged As:
The post titled Best-Ever Retracement; VIX Is Awfully Low was originally published as on SentimenTrader.com on 2019-01-10.
At SentimenTrader.com, our service is not focused on market timing per se, but rather risk management. That may be a distinction without a difference, but it's how we approach the markets. We study signs that suggest it is time to raise or lower market exposure as a function of risk relative to probable reward. It is all about risk-adjusted expectations given existing evidence. Learn more about our service , research, models and indicators.
Follow us on Twitter for up to the minute analysis of market action.
Follow @sentimentrader