An extreme record in mild valuations
---
---
Sentiment and valuation go hand-in-hand. One impacts the other and creates a self-reinforcing loop until something happens to break the cycle.
With some measures showing extreme or even record levels of optimism, it's not a big surprise that most measures of valuation are showing the same. About the only ones that don't are using the prevailing level of interest rates as a buffer.
There can be little doubt that regardless of rates or future prospects, investors are willing to pay a high amount for current earnings. Over the past 40 years, there have never been more mild, moderate, or severely overvalued companies within the S&P 500.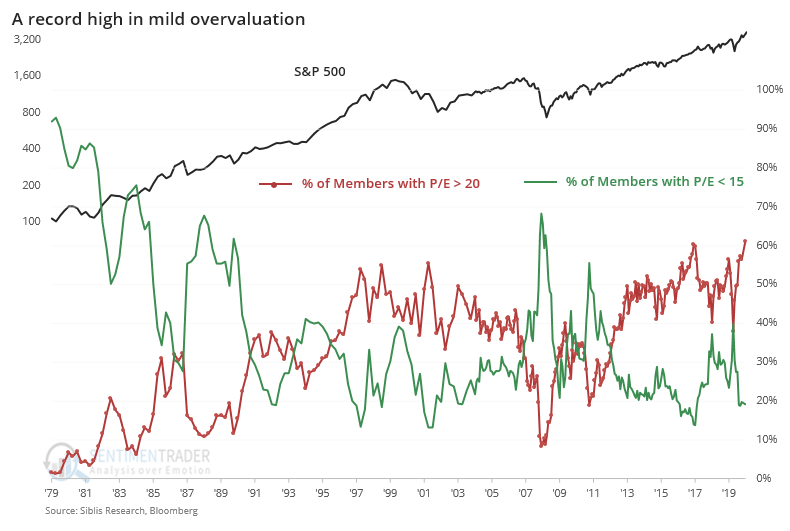 The percentage of mildly overvalued companies just hit a record high. It's even starker when we look at the next step, moderate overvaluations, with a P/E ratio above 25. And it gets starker still when looking at severely overvalued companies. It doesn't matter if we use other valuation measures, either.
---
What else is happening
These are topics we explored in our most recent research. For immediate access with no obligation, sign up for a 30-day free trial now.
A closer look at the percentage of companies with mild, moderate, and several overvaluations
The spread between over- and under-valued companies has never been greater
Annualized returns at various levels of member valuations shows big differences
What happens when stocks have done will into year-end
Energy is about to become "golden"
The S&P 500 formed a hammer
What it's meant when other super large stocks got added to the S&P 500, and then promptly declined
---
Stat Box

Small-capitalization stocks have a large influence on overall breadth statistics on the NYSE. The more that small-cap stocks rise, the better breadth readings we see. That was not the case on Tuesday. Despite the Russell 2000 rising more than 0.9%, there were fewer than 45% of securities on the NYSE advanced, and less than 45% of volume flowed into advancing issues. This was the 4th-weakest breadth session ever when the Russell rose that much.
---
Sentiment from other perspectives
We don't necessarily agree with everything posted here - some of our work might directly contradict it - but it's often worth knowing what others are watching.
1. According to strategists at Jefferies, investor risk appetite is in extreme territory after recovering from a bout of pessimism in the fall. [Marketwatch]

2. Newsletter writers continue to push the boundaries of bullishness, with nearly the widest spread between bulls and bears in 2 years. [I.I. via Willie Delwiche]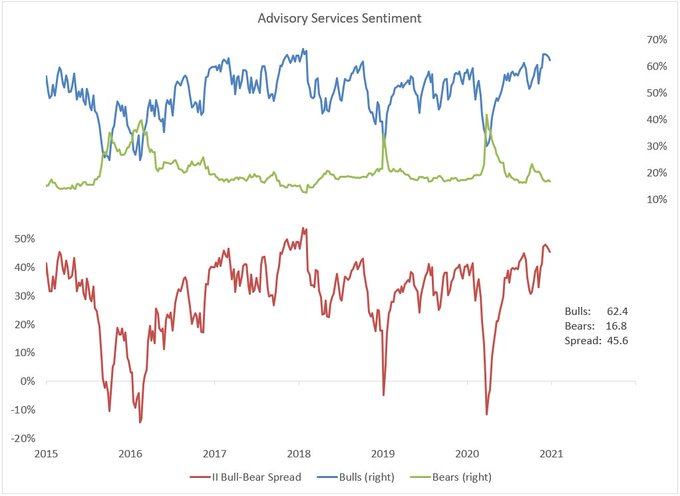 3. One place where there still doesn't seem to be a lot of love is emerging markets, where flows have only started to tick higher after a prolonged outflow. [Alpine Macro via Daily Shot]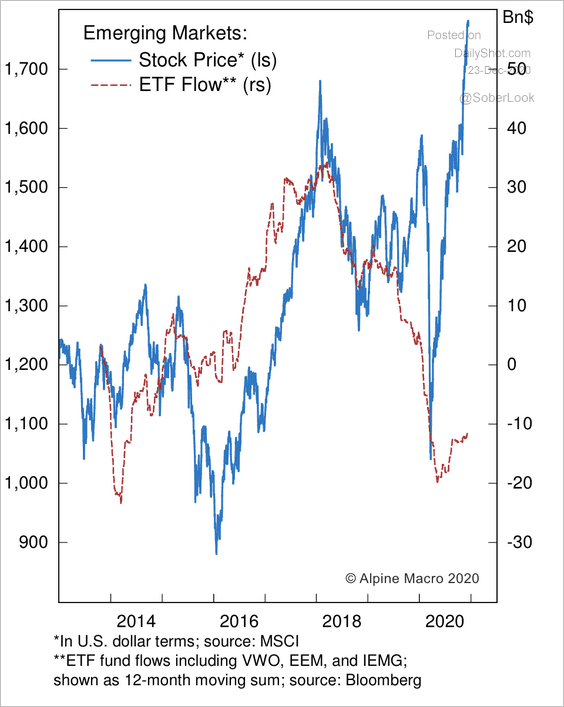 The post titled An extreme record in mild valuations was originally published as on SentimenTrader.com on 2020-12-23.
At SentimenTrader.com, our service is not focused on market timing per se, but rather risk management. That may be a distinction without a difference, but it's how we approach the markets. We study signs that suggest it is time to raise or lower market exposure as a function of risk relative to probable reward. It is all about risk-adjusted expectations given existing evidence. Learn more about our service , research, models and indicators.
Follow us on Twitter for up to the minute analysis of market action.
Follow @sentimentrader