After These Signals, Gold Usually Couldn't Hold
---
---
For the first time in months, gold is back in an uptrend.
Using intraday prices, gold finally punched above its 200-day average for the first time since the start of February. That ends the longest stretch below the 200-day since late 2018. After it regained its average then, it rallied for another couple of months before giving almost all of those gains back, and then finally managed to roar ahead.
The several months below its 200-day wasn't gold's longest stretch in a downtrend by any means, but it was one of the longer trends in the past 20 years.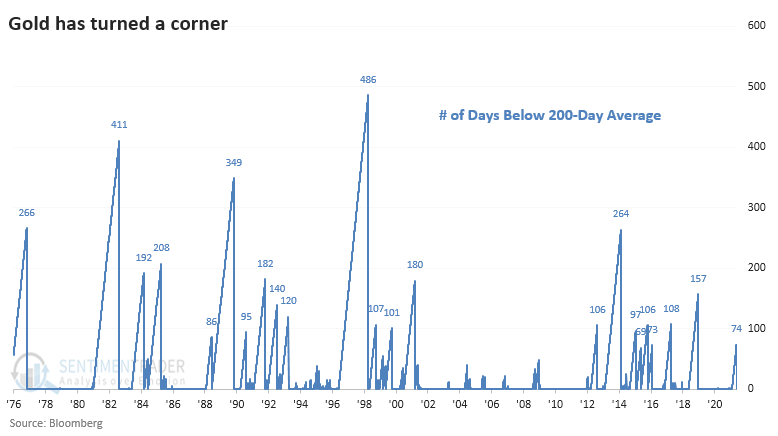 We've seen before that gold has a tendency to be trendy, and attempted reversals in long-term trends aren't very sticky. Medium-term returns weren't kind after the 22 other times gold attempted this kind of trend change.
Over the next 6 months, gold showed a positive return only 32% of the time, and all the other stats were poor. Gold mining stocks also had a tendency to see more selling than buying pressure.

Stat Box



For only the 3rd time since its 2003 inception, on Tuesday, the EEM emerging markets fund gained more than

1.25%

on a day when the S&P 500 fund, SPY, lost more than 0.75%. Of the 9 times that EEM showed twice as large of a gain as SPY showed a loss, EEM outperformed SPY over the next 2 months 78% of the time.
What else we're looking at
Full details on gold's future returns after crosses above its 200-day average
A detailed look at returns on gold mining stocks, too, back to 1975
What happens after the Growth / Value ratio shows a massive deviation from trend
Based on trends, when to favor Growth or Value
A rules-based system for switching between commodities and stocks

Related Posts:
---
Tagged As:
The post titled After These Signals, Gold Usually Couldn't Hold was originally published as on SentimenTrader.com on 2021-05-19.
At SentimenTrader.com, our service is not focused on market timing per se, but rather risk management. That may be a distinction without a difference, but it's how we approach the markets. We study signs that suggest it is time to raise or lower market exposure as a function of risk relative to probable reward. It is all about risk-adjusted expectations given existing evidence. Learn more about our service , research, models and indicators.
Follow us on Twitter for up to the minute analysis of market action.
Follow @sentimentrader