A Cluster Of Warnings
---
---
This is an abridged version of our recent reports and notes. For immediate access with no obligation, sign up for a 30-day free trial now.
Cluster funk
If we focus on one particular data point too much, then we risk getting blindsided by a structural market change or simply a failed signal. That's why we tend to look at a lot of different things, from a lot of different perspectives, to see what the overall theme is.
So, this will probably be one of the last times we focus on some of the breadth warnings that are popping up. The only reason to bring it up again is that it has branched out from only triggering on the Nasdaq to also now being on the NYSE.
Both exchanges are throwing off Hindenburg Omens and Titanic Syndromes on a daily basis. This is now one of the biggest clusters of warnings since 1986.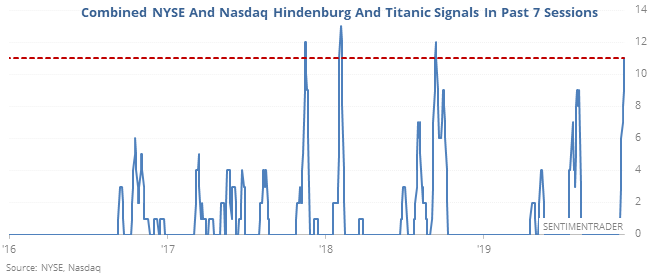 Outside of two remarkable momentum years, medium-term returns after similar clusters were almost universally negative.
De-levered
Despite a steady monthly climb in stocks, investors continue to de-leverage. Margin debt has held steady or declined for most of the past year.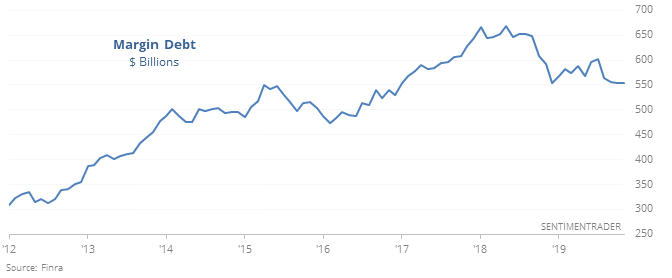 Bulls want to spin this as a sign that investors have been to risk-averse and therefore there is plenty of buying power to come in and power stocks higher. Bears want to spin it as a sign that investors aren't willing to leverage up as stocks rise, ultimately leading to a decline for stocks. Neither one has a strong argument.
Going back over 80 years, similar setups led to mixed returns.
NASDAQ Composite's long term trend

Over the past few months, various indices' monthly MACD histograms have turned positive. I've demonstrated that this typically marks the beginning of a big rally in stocks over the next 1-2 years. Barring a significant decline over the next week, the NASDAQ Composite's monthly MACD histogram will also turn positive for the first time in 12 months as of November's close.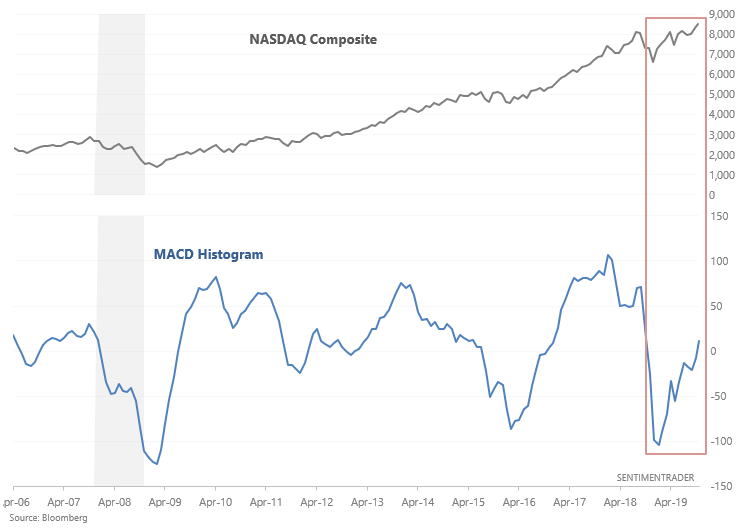 When the MACD histogram turned positive for the first time in more than 6 months, the NASDAQ Composite typically surged over the next 6-12 months.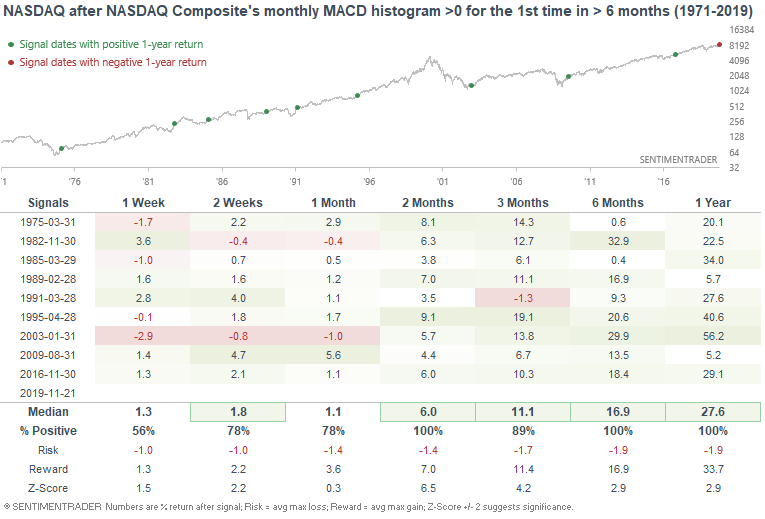 There are quite a few shorter-term warning signs that have popped up lately, but when we look at longer-term momentum, it has reached a level that most often precedes further long-term gains.
We also looked at:
The LEI has dropped for 3 months in a row
Our CNN Fear & Greed proxy model is pulling back from extreme greed
Minimum volatility ETFs are seeing outflows
The Index Put/Call Ratio spiked again

Related Posts:
---
Tagged As:
The post titled A Cluster Of Warnings was originally published as on SentimenTrader.com on 2019-11-22.
At SentimenTrader.com, our service is not focused on market timing per se, but rather risk management. That may be a distinction without a difference, but it's how we approach the markets. We study signs that suggest it is time to raise or lower market exposure as a function of risk relative to probable reward. It is all about risk-adjusted expectations given existing evidence. Learn more about our service , research, models and indicators.
Follow us on Twitter for up to the minute analysis of market action.
Follow @sentimentrader