1/2 Of Bitcoin Bubble Signals Have Triggered
---
---
Bitcoin bubble babble
Sentiment on bitcoin is jumping, but is below other euphoric peaks. Barely half of "bubble" signals have triggered, unlike past peaks when 100% of them did.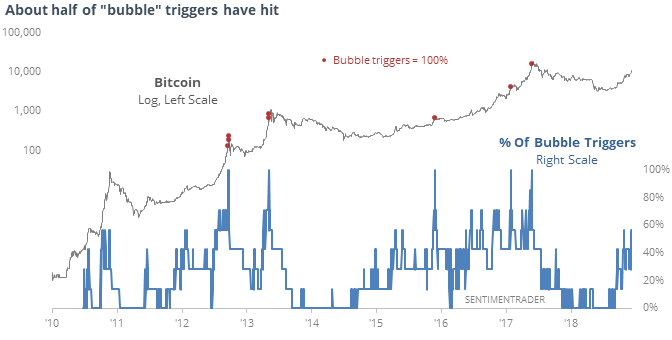 By the time sentiment reached its current level, the coin typically took off on a last gasp buying frenzy, notching remarkable returns across all time frames.
Secondary indicators showing interest in bitcoin are also mostly not showing extremes, with the exception of volume.
O Canada
Economic surprises in Canada have greatly outpaced those in the U.S. The spread between them has reached the widest point in over a decade.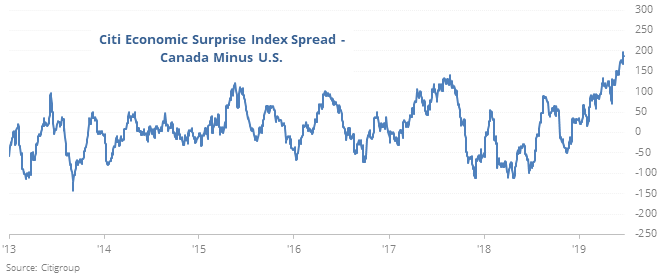 The two other times it has become this divergent over the past 16 years, the Canadian dollar, and stocks on Canadian exchanges, outperformed those in the U.S.
Small traders return
Earlier in June, we saw that small options traders were buying a record amount of hedges against stocks, a sign of pessimism that has led to some great rallies. Now that stocks have followed through, the traders are changing their mind. Put volume is still somewhat high, but they've also picked up their call volume, accounting for 39% of the total last week. The Backtest Engine shows a positive return only 32% of the time six months later.
Gold rush
Traders have pushed the GLD fund to at least a 0.5% open gap for the 3 straight days, trading at a 52-week high. This has happened 7 other times in the gold fund's history. Three weeks later, it added to its gains only once.
This post was an abridged version of our previous day's Daily Report. For full access, sign up for a 30-day free trial now.

Related Posts:
---
Tagged As:
The post titled 1/2 Of Bitcoin Bubble Signals Have Triggered was originally published as on SentimenTrader.com on 2019-06-25.
At SentimenTrader.com, our service is not focused on market timing per se, but rather risk management. That may be a distinction without a difference, but it's how we approach the markets. We study signs that suggest it is time to raise or lower market exposure as a function of risk relative to probable reward. It is all about risk-adjusted expectations given existing evidence. Learn more about our service , research, models and indicators.
Follow us on Twitter for up to the minute analysis of market action.
Follow @sentimentrader